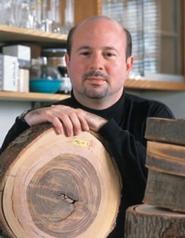 Climatologist and author Michael Mann, director of Penn State's Earth System Science Center and co-founder of the award-winning science website RealClimate.org, will give a lecture titled "The Hockey Stick and the Climate Wars," based on his book of the same name, on Monday, April 4, at 7 p.m., in the Chapel. The lecture is free and open to the public and will be followed by a book-signing.
Mann is Distinguished Professor of Atmospheric Science at Penn State University. His research involves the use of theoretical models and observational data to better understand Earth's climate system.
In its 2001 report on global climate, the Intergovernmental Panel on Climate Change (IPCC) of the United Nations prominently featured the "Hockey Stick," a chart showing global temperature data over the past 1,000 years. The Hockey Stick demonstrated that temperature had risen with the increase in industrialization and use of fossil fuels. Mann was lead author of the original paper in which the Hockey Stick first appeared.
Mann has received a number of honors and awards including National Oceanic and Atmospheric Administration outstanding publication award in 2002 and selection by Scientific American as one of the 50 leading visionaries in science and technology in 2002.
He contributed, with other IPCC authors, to the award of the 2007 Nobel Peace Prize. Mann made Bloomberg News' list of 50 most influential people in 2013. In 2014, he was named Highly Cited Researcher by the Institute for Scientific Information (ISI) and received the Friend of the Planet Award from the National Center for Science Education. Mann is a fellow of the American Geophysical Union, the American Meteorological Society, and the American Association for the Advancement of Science.
Mann is author of more than 190 peer-reviewed and edited publications; his other book is Dire Predictions: Understanding Climate Change.
Mann's lecture is sponsored by the Arthur Levitt Public Affairs Center and the Environmental Studies Department.