Clinton Schools-Hamilton Performance Celebrates Bicentennial
---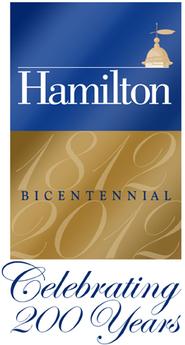 An evening of performance celebrating the bicentennial of the founding of Hamilton College in 1812 and featuring Clinton Central School and Hamilton College students will be staged on Thursday, Oct. 27, at 7:30 p.m., at the Clinton Central School performing arts complex. The event is free and open to the public.

The program, titled "1775-1812: Life Stories, Correspondence, and Debate in Early America and the Mohawk Valley," will include four performances that will involve nearly 50 students from Clinton Central Schools as well as members of the Hamilton debate team.

An elementary school performance, "Scenes from the Life of Alexander Hamilton," will include 4th- and 5th-grade students in a stage adaptation written by Hamilton senior theatre major Sarah Kane. Elementary school teachers involved with the performance include Kate Chute, Emily Heintz, Helen Leonard, and Adrian Pollock.

The Middle School will perform "Correspondence between Samuel Kirkland, Philip Schuyler, and the Six Iroquois Nations," featuring Andrew Bankert's 8th-grade students. Hamilton senior theater major Ryan Park is also working with the group.

Clinton High School will present "Alexander Hamilton vs. George Clinton: Federalist and Anti-Federalist Positions on the Bill of Rights and the Ratification of the Constitution" with Michael Zogby's AP Government students and assisted by Hamilton senior theater major Jordyn Taylor.

The evening will conclude with four members of Hamilton's debate team arguing both sides of the Hamilton–Madison debate on Hamilton's financial plan to reduce the country's debt in the early 1790s.

The performance was organized by the Community Relations subcommittee of Hamilton's Bicentennial Committee, coordinated by event chair Professor of French John C. O'Neal, and planned with Clinton Central School teachers and administrators, community members, and Hamilton faculty and students. Its content is appropriate for all audiences.