Collins '14 Named 39th GOLD Scholar
---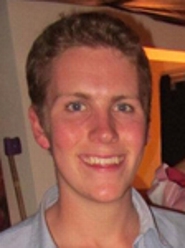 Name: Conor Collins
Hometown: Brookfield, Conn.
High School: Brookfield High School
Major: Economics
Minor(s): Biology, Hispanic Studies
Campus activities: Varsity Swim Team, Club Water Polo Team, Chi Psi, Campus Tour Guide
FAVORITES
Last Movie Seen in Theaters: The Fighter
Movie: The Blindside or Blades of Glory
Song: Lisztomania by Phoenix
Place You've Lived on Campus: Bundy
Last Book Read: Confessions of a Wall Street Analyst
Book: The Great Gatsby
Hobbies/Interests: Swimming, Commons, Travel Channel
Place on Campus: Eells Balcony — awesome view
Campus Dining Location: The Little Pub does a great lunch.
Fondest Hamilton Memory: First warm day of Spring — The entire campus was outside, the grills were going, everyone was loving it.
Quote: "You can't stop the waves, but you can learn to surf" Jon Kabat-Zinn
Where did you grow up and what was life like there?
I grew up in the small town of Brookfield, Conn. It is about 90 minutes from New York City, but otherwise we are pretty removed. Aside from Costco, there is not much that brings in a lot of people. I have no issues with this, because similar to Hamilton, I got to know people in my town very well. I loved recognizing familiar faces anytime I went somewhere in town, and perhaps this is why I find the intimate Hamilton community so fitting and appealing.

How did you discover Hamilton?
My sister graduated from Hamilton in 2009, so it was a somewhat common name in my house. However, I was set early on that I wanted to find a place to call my own. When I finally visited Hamilton for myself, however, this completely changed. I stayed overnight, visited classes and loved every second of it.
What were your first impressions of the College? Do you find they're still true today?
Though I was looking at schools considered similar to Hamilton, there were aspects that made this school stand head-and-shoulders above the others in my mind. When I sat in on classes, professors would ask me about my visit. Students raved about their time here, and they all had a genuine happiness about being a Hamilton student. Add the bucolic setting and it creates an atmosphere unlike any other. The vibes were such a factor for me; it just felt right when I was on campus. Today I can say that my initial impressions still hold true, and my pride of being a Hamilton student has only intensified. This is why I find giving tours so rewarding; I can share my positive experience with prospective students in hopes that they can see the school for the great place that it is.

What are some defining elements of your time on the Hill?
Community is definitely defining element number one. I have a great and diverse group of friends and love that the attitude is to help one another both in and out of the classroom rather than having a competitive, cut-throat environment. The academic and social freedom and variety are other defining aspects. They know we are responsible here, and the College is more than willing to allow us to make our experience our own. Finally I would say the weather. Some find the winters to be drawn out and brutal, but all of the time indoors makes the community feel closer. To me, there is nothing like relaxing by the fire in the pub in the middle of January. I guess the adage "wisdom comes with winters" has some validity.

What perspective would you share with alumni?
I would emphasize the gratitude I have for all alumni who so enthusiastically give back to Hamilton year after year. Not only do contributions of any size make a difference, but they continue the trend of young alumni consistently giving back and inspire future alumni to continue this practice and pay thanks to the school that laid the framework for so much of their future. The experience here is unforgettable, and it is satisfying to know that people still acknowledge this years after leaving the Hill.