Community Oratorio Society and Choir to Perform
---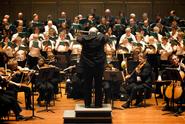 Hamilton College and Community Oratorio Society and the Hamilton College Choir will perform a combined Spring Concert on Tuesday, May 3, at 8 p.m., at Wellin Hall in the Schambach Center for Music and the Performing Arts.
Conducted by G. Roberts Kolb, the Oratorio Society and Choir will perform Verdi's Requiem. The featured soloists are Jill Gardner, soprano; Dawn Pierce, mezzo-soprano; David Parks, tenor; and Jake Gardner, bass.
Verdi's Requiem has become one of his most popular compositions. He wrote it in honor of Italian poet and novelist Alessandro Manzoni, who died in 1873. While Verdi was sincere in his desire to memorialize Manzoni, he was also aware of the commercial possibilities for the Requiem. At the same time that he was negotiating with the city of Milan to underwrite the premiere and with the Church to allow women singers to appear, he was also arranging publication and performance royalties. The premiere took place in May, 1874, at the Church of San Marco as part of a liturgy, but Verdi also arranged two concert performances at La Scala, which were greeted with great enthusiasm. In the year following the premiere it was performed all over Italy, in Paris, London, Vienna and even in America.
Tickets for this performance are $8 for adults and $6 for senior citizens and students. It is free for Hamilton College students. For more information call the box office at 859-4331.