Composer, Pianist Jon Jang to Lecture and Perform
---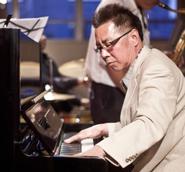 Composer and pianist Jon Jang will present a series of lectures and a performance during an academic and artistic residency from Monday, Oct. 7, through Friday, Oct. 11. All events are free and open to the public.
On Monday and Tuesday, Oct. 7-8, Jang will present parts one and two of "One Day American, One Day Alien: Artists of Color Who Changed the National Anthem," at 4 p.m., in the Red Pit, Kirner-Johnson Building.
Wednesday's presentation is titled "Traditions in Transformation: the Musical Language of Jon Jang," and will also take place at 4 p.m. in the Red Pit.
On Friday, Oct. 11, Jang will give a pre-concert talk at noon and a concert at 4 p.m., both in the Fillius Events Barn. The performance will feature Jon Jang, Min Xiao-Fen, Professor of Music "Doc" Michael Woods and other Hamilton musicians.
Jon Jang is an American jazz pianist, composer and bandleader. Of Chinese ancestry, he is active in the Asian American jazz movement and specializes in music which combines elements of jazz and Asian musics. A majority of his works represents a chronology of Chinese American history in San Francisco. In May 2013, Jang performed at The White House Forum on Asian American & Pacific Islander Heritage in Washington D.C., hosted by the Department of the Interior and the White House. Jang has performed with luminaries including Max Roach, David Murray, and others.
Min Xiao-Fen (pipa, vocals) is a world recognized virtuoso in both orchestral and underground styles, pipa performer, vocalist and composer. She began her career as a pipa soloist with the Nanjing Traditional Orchestra in China.
The events are sponsored by Asian Studies, American Studies, the Director of Diversity and Inclusion, English and Creative Writing, and the President's Office.