Connolly Discusses Infrared Galaxies at ASNY Meeting
---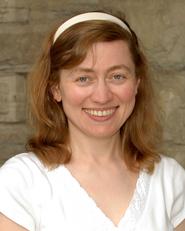 Assistant Professor of Physics Natalia Connolly gave an invited talk at the fall meeting of the Astronomical Society of New York (ASNY) on Oct. 23, at Rensselaer Polytechnic Institute.
In "An Evolutionary Plane for Ultra-Luminous Infrared Galaxies at Low Redshift," Connolly described two techniques she and her collaborators have recently introduced for understanding ultra-luminous infrared galaxies (ULIRGs). ULIRGs are among the most luminous extragalactic objects. Although they are understood to be mergers of galaxies, the details of their life cycles remain unclear. Connolly's group has developed a technique based on Bayesian statistics that allows them to perform pair-wise comparisons of ULIRG spectra. Using tools common in graph theory, the comparisons can then be visualized to come up with what researchers believe is a fundamental evolutionary diagram representing possible scenarios for ULIRG development.
Founded in 1968, ASNY is a consortium of New York colleges and universities. Hamilton recently joined the society as an associate member.