Considering City Year? Alex Ossola '10 shares her experience working for City Year.
---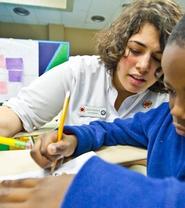 My years at Hamilton were undoubtedly some of the most formative of my life; I got the chance to discover and explore my own passions. By volunteering through my social club, Emerson Literary Society, as well as participating in the Young Scholars SAT Prep program for kids in Utica, one aspect of myself that I developed/discovered at Hamilton was a deep commitment to improving the lives of others. I knew I wanted to continue this path after graduation, and a few months later, I began my year of service working with a non-profit called City Year in Washington, D.C., only a few miles from where I grew up.
On my first day of training, I immediately knew that City Year was not going to be what I expected. I was working alongside recent high school graduates, the uniforms were different from my everyday attire, and I was clearly going to be involved in some sort of bizarre physical training exercises on a regular basis. After painting a mural on the first day of training, I found myself getting really into it and was impressed that the people I had started to meet were some of the nicest, most genuine people I'd ever met. I quickly found myself hooked by this "beloved community" that City Year had started to form among my peers.

Luckily, that attraction lasted the five weeks of training before I was able to begin working full-time at my school. City Year corps members work in teams in each school. My first impression of my team was something like, "Jeez, these people are so ridiculously different from each other. How will we ever get along?" My seven teammates hail from different ethnic, social, and economic backgrounds from one another, and I found that not a single one of us went about completing a task in the same way. In the months that I have been working in my school, my team has been my greatest support network for the physical, personal, and emotional challenges I have faced, and I hope to know several of my teammates for the rest of my life.


I was assigned to a third grade class at Ferebee-Hope Elementary School, located deep in southeast Washington. "The Hope" has more than its fair share of behavioral challenges, and my class was certainly no exception. My teammates and I quickly implemented a strong behavior management plan to support our teachers and to simply to maintain order when we were alone with our students. Compounding their behavioral challenges were academic struggles; only two kids in the class were even reading at grade level. Third grade is a pivotal time for kids, so I knew that this year would make or break some students' academic careers.
For me, one of the hardest transitions was essentially learning a new culture. Growing up in a wealthy DC suburb only 30 miles from Ferebee-Hope, I found myself ignorant of the music, dance, food, and even language that came naturally to my students. I had to learn to effectively communicate with the kids—a challenge to which I found that I was happy to apply myself. After absorbing as much of this new culture as was necessary, I found that my communication and overall relationships with my students noticeably improved.
In the five months that I have been in the classroom, I have seen profound changes in my kids' behavior. While the class definitely has its rough days, most of the students have settled down and can better focus on their work, which has led to more of them approaching grade-level scores in reading and math. One of the most dramatic changes I've seen is in my relationships with individual students. One girl would argue with me every morning about putting her bookbag on the hook in the corner of the classroom; after bringing her to our City Year room to spend some special one-on-one time and drink a little hot chocolate on a cold day, she is now one of my staunchest advocates to her peers. Another boy was engaging in up to 10 fights per day with his classmates, so I promised him a treat if he got in one fight or less per day. Even now that I no longer give him incentive to do so, he proudly walks up to me most days and tells me, "Miss Alex, no fights today!" I was brimming with pride the day one of my most challenging students finished the chapter book she and I had been reading together; she asked me to write a dedication in it before she took it home to start her own library.
Every day is a new emotional roller coaster as I help these 20 children learn to deal with their personal issues in order to work towards an education and a better future for themselves. I love waking up every morning to celebrate their triumphs and to help them through their challenges. To say that I am emotionally invested is an understatement; for me, my feeling towards my kids is nothing short of love.
Working with City Year has provided me with an amazing experience that has fueled my soul and given me purpose in my life—a quality I believe to be rare in initial post-graduate employment. While next year I may find myself working in a more corporate setting, City Year has ignited in me a passion for community service that will remain vibrant even outside the professional realm.