COOP's First-Year Service Intern Class Starts Strong
---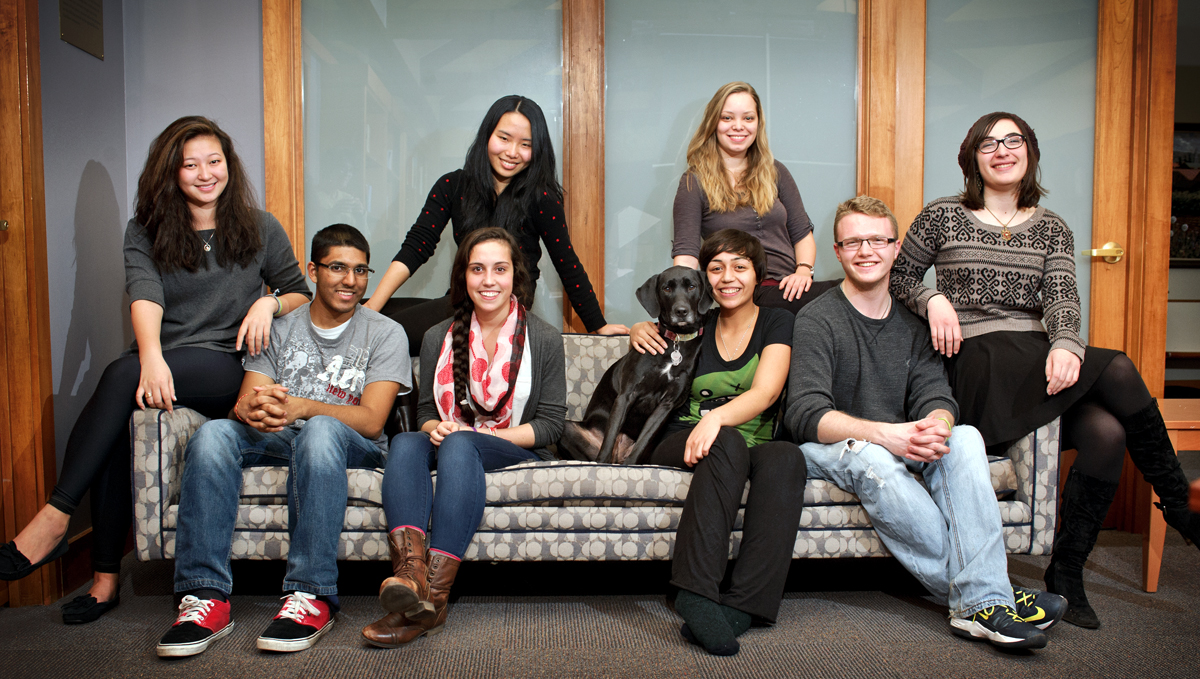 As the first semester of their two-year tenures wind down, eight COOP Service Interns can look back in pride. They look forward with even greater excitement.
Eight first-year students -- Christopher Wallace, Emily Moschowitz, Bryan Ferguson, Kianee De Jesus, KaraLin Pintye-Everett, Aleksandra Bogoevska, Chloe Ma, Emma Feitelson and Albert Lunn -- have jumped right into a committed schedule of volunteerism in which they work with a service organization at least six hours a week.
Founded in 2009 to strengthen the bond between Hamilton College and local service programs, the COOP Service Internship (CSI: Hamilton) places volunteers in a close, fulfilling relationship to their community and each other.
CSI pairs students with dynamic local service organizations. Emily Moschowitz volunteers with the Municipal Housing Authority (M.H.A.), "working with refugees on their community garden" and helping to "educate them on farming practice and nutritional benefits of local vegetables." The range of service extends beyond the garden, however, as Moschowitz has "the opportunity to help out at many different locations" including the M.H.A's refugee center in Utica. Building connections even further, Moschowitz's service contact put her "in touch with people in the department of health and other local organizations that also have community gardens in Utica" so as to collaborate on larger projects in the future.
Bryan Ferguson was paired with the Multicultural Association of Medical and Legal Interpreters (MAMI). MAMI provides "interpretation services that allow refugees to have access to quality health care and equal representation under the law." Ferguson was invited to become a member of MAMI's Advocacy Committee and has taken on an assignment to "organize and plan a community forum on the important role of competent medical interpreters in a multicultural society."
Kianee De Jesus assists the House of the Good Shepherd, a foster care organization, with communications. She writes articles, makes images with Photoshop, and creates ads encouraging donations. Assuaging fears that De Jesus wouldn't have enough time to volunteer, Director of Outreach and Orientation Amy James "insisted it would be worth it" and De Jesus, echoing the experiences of many CSIs, states "I totally agree."
Another student also works with young adults. KaraLin Pintye-Everett volunteers at New Hartford High School as a teacher's assistant for a classroom of young adults with autism. Pintye-Everett appreciates working personally with students and recently assisted on a visit to Hamilton.
Emma Feitelson volunteers at the Kirkland Town Library, and her experience reflects a larger point that Amy James makes about the program. The beginning of a job is stressful, you begin working with complete strangers, and things can get boring. While Feitelson's experience volunteering was not what she expected, the idea of acclimating to a job is a skill that COOP makes sure to teach. Next semester, Feitelson is looking forward to running the library's Sidekicks program that will work with arts and crafts and short stories.
Aleksandra Bogoevska helps the elderly at the Parkway Senior Center in Utica and has been creating a "Falls Prevention" presentation in Oneida County. Bogoevska remarks that it took time to fully understand her responsibilities and so she was cautious in her approach to the job at first, but felt Amy James and Jeff McArn, COOP Service Learning Coordinator, did "a great job connecting students with sites they would be interested in" and caught on to her role quickly.
Highlighting the deep connection CSI members form with their communities, Chloe Ma volunteers for the Rome Art and Community Center (RAAC), to plan community events. RAAC has one employee, and Ma says she has loved the personal connection her internship has fostered. She's assisted in planning a Halloween haunted house, a renaissance fair, and a holiday food fair with the cuisine of local businesses
Albert Lunn volunteers with Upstate Cerebral Palsy's Tradewinds Education Center in Chadwicks to develop an engaging, relevant curriculum for children with cerebral palsy. Lunn notes that many interns are "stuck doing paperwork," but that he has been matched with a position in which he actively works on vital, exciting projects. For example, Lunn shadows different staff members at the school, works closely with the students, and is happy to have learned the "interworking of the school."
While these interns have made indelible imprints on the local communities, they've also formed close friendships each other. Every Thursday, COOP members meet to "bond with a small group of students who share a common interest in service," Moschowitz says. Bogoevska likes the opportunity these meetings provide to "express any concerns related to our sites, share valuable stories or learn something new through talks with different professors."
CSI's Thursday meetings are lively, fun, and somehow practically productive all at the same time. While the members work hard, as good volunteering requires, they also know how to unwind. As the final meeting rolls around, James laughs, "We're having a party."
Ferguson adds, "I love these weekly meetings because every week Jeff (McArn) and Amy (James) find these awesome activities or speakers that allow us to better understand ourselves and the community we live in." One Saturday, Ferguson continues, "Professor Doug Ambrose from the History Department took the CSI interns on a tour of Utica, along the way explaining the rich history of the city and community."
While establishing a close group at Hamilton, CSI stresses understanding and strengthening the bonds that hold local communities together. For Ferguson, part of CSI's immense value is the experiences that illustrate "what defines the community, what makes our community so special." Ferguson raves, "Through both my time with MAMI and our weekly meetings, I've begun to see how special the Clinton and Utica communities really are and this is something I want to share with every student and faculty member at Hamilton."