COOP Senior Fellows Help Community Programs Run Smoothly
---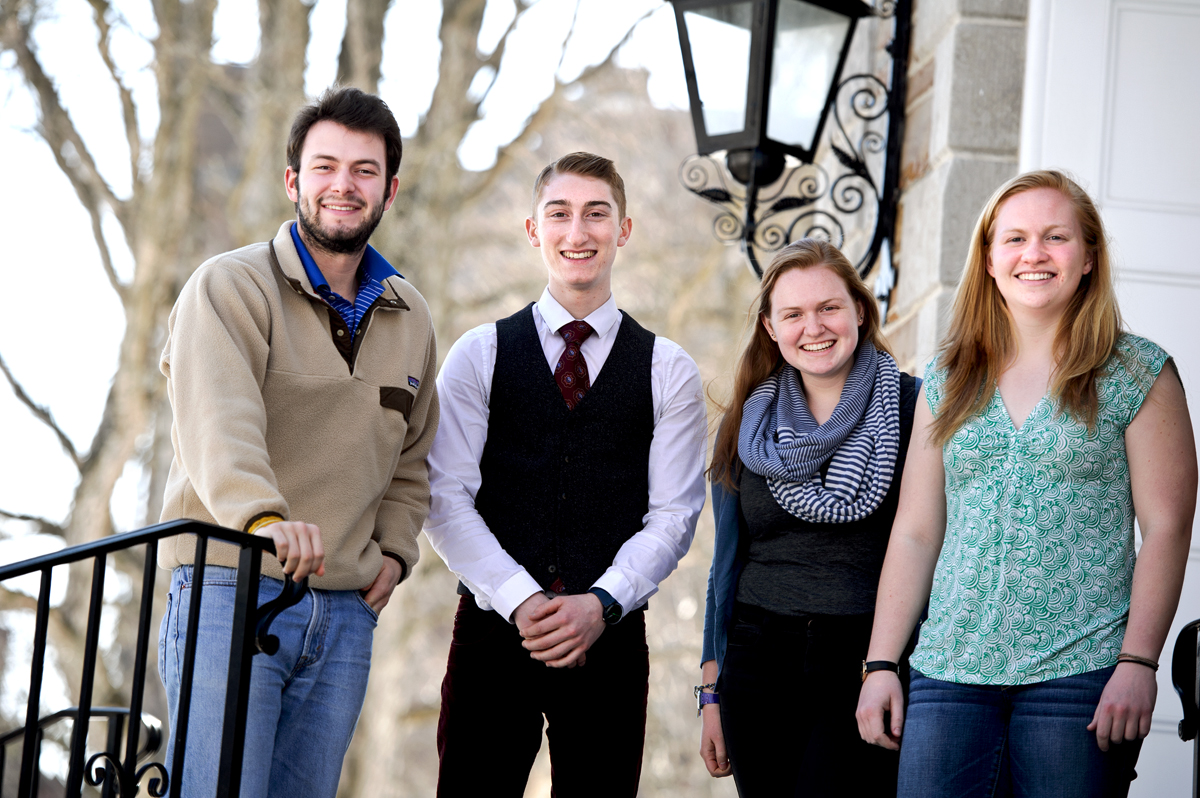 Since it started in 2011, the Community Outreach and Opportunity Project, or COOP, has been buzzing with activity. It's a win-win relationship. Hamilton students want to help their neighbors and effect positive change; and their neighbors, in the greater Mohawk Valley, provide numerous opportunities for activities like tutoring, working in soup kitchens or building houses, to name a few. In fact, the number of interactions with local organizations has grown annually, requiring the COOP to increase the number of it senior fellows.
Amy James, director of Outreach and Orientation, explains, "the COOP has lots of balls in the air; so, the senior fellows are here to help keep everything organized and make sure everything runs smoothly."
The COOP's 2014 senior fellows are Sarah Andrews, Maggie Doolin, Jason Driscoll, and Evan Warnock. Each fellow coordinates a different program and has unique responsibilities in the COOP. However, they all agree that the COOP is a home away from home.
Sarah Andrews helps run the COOP's Service Internship program. She organizes a 2-year internship program of about 20 students who partner with various local organizations in order to provide service. Andrews is in charge of coordinating transportation and the weekly meetings. As a high school student, Andrews took pride in helping within her community, so it was a natural extension for her to become involved with the COOP, and based on her enthusiasm and commitment, it was no surprise to anyone who knows her that she was selected as a senior fellow.
Andrews plans to work for a not-for-profit after graduation, explaining,"I had no idea what I wanted to do when I started Hamilton. Nothing anyone had ever talked to me about sounded interesting," she remarked. "I had no idea that not-for-profit work was even an option until I started working with the YWCA through the COOP Service Internship program. The COOP is 100% responsible for helping me figure out what I actually want to do with my life," Andrews noted.
Maggie Doolin is the Community Fellow at the COOP and is in charge of organizing off-campus volunteer events for fraternities, sororities and athletic teams. As part of first-year student pre-orientation, Doolin participated in the Urban Service Experience, now known as Outreach Adventure. She loves her position at the COOP because she's able to provide an outlet for Hamilton students to serve by creating connections with community organizations.
Doolin said, "To me there are two very rewarding aspects to my fellowship. First, working at this job has allowed me to develop really strong interpersonal skills and get over any fears of telephone conversations or other communications that burden many of our peers. Second, seeing the jobs carried out and Hamilton students enjoying their work with our community partners who really need the help is incredibly rewarding because it makes me feel like my job has been a success,"she explained.
Jason Driscoll, the Education Senior Fellow, coordinates the majority of education programs run through COOP including the Sidekicks program at Clinton elementary school and elementary school foreign language tutoring. Like Andrews, Driscoll started working for the COOP through its Service Intern program. This is his fourth year working with James and the COOP team.
Driscoll admires the COOP for providing community service opportunities to undergraduates. Most volunteers find that once they get involved, it results in a sense of fulfillment and they look forward to watching the progress that occurs as a result of their efforts. He points out that "the COOP promotes community involvement in a community that has provided me with excellent educational and social opportunities. Giving back to this community, in addition to aiding those who can benefit from my experience, is the reason why I dedicate my time to this project," he remarked. "The COOP also fosters a caring and constructive work environment that emphasizes pragmatism and real progress."
Evan Warnock works primarily as the student director of the America Reads Program. America Reads pairs Hamilton students with elementary school students in Utica for an afterschool literacy program that takes place four days a week. Warnock started working with the COOP his sophomore year as an America Reads tutor and moved his way up until he became student director of the program.
Warnock explains that his COOP experience has served as a real life example of concepts he has learned in classes taught on the Hill. "As a psychology major and education studies minor, I have studied many issues related to learning and teaching, academic achievement, and public education reform," said Warnock. "The COOP has given me an outlet to explore many of these issues in the surrounding community. For instance, I witnessed clear examples of the achievement gap in the reading struggles of the 2nd grade student who I worked with as an America Reads tutor," he noted.
In 2011 the senior fellows position was created to help organize the programs and to create opportunities for students to have career-related experiences. However, as the program has progressed, it is apparent that it does so much more.
James explains that not only does the program provide these opportunities; it also gives her the "pleasure of getting to know these students."