COOP Service Interns Gain Experience With Local Non-Profits
---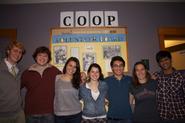 The men and women of Hamilton's CSI team have some of the most specialized and important skills on campus. They're not crime scene investigators, though—CSI stands for COOP Service Intern, one of the many service opportunities offered by Hamilton's Community Opportunity and Outreach Project (COOP). Each year, a half-dozen first-year students join this selective program, which is focused on matching a student with a local non-profit agency for an extended four-semester internship.
The students deeply integrate themselves into local organizations concerned with (among other things) caring for foster children or providing assistance to underserved neighborhoods in Utica. They work a minimum of six hours a week on-site with their agencies, giving them a realistic career experience. Although the workload can be draining, the interns agree that the work is incredibly rewarding.
"The CSI program…sounded like a great opportunity," Meghan O'Sullivan '15 said. "[It's] a fantastic way to get to know the surrounding area, help people, [and] get valuable experience from leaders in the non-profit sector."
The program began three years ago as an evolution of the national Bonner Leaders Program. COOP director Amy James is quick to state that the Bonner program is perfect for many schools, but didn't really meld with Hamilton's intimate atmosphere. James emphasized that "smaller is better" at Hamilton, and that the CSI program's size allows for a much more intimate service experience for both the intern and the organization.
The small size of each class of interns means that they're able to meet as a group every week for two hours with James. Broadly, the meetings cover "professional development," said James, "but we do fun stuff too!" Speakers at the meetings can range from Susan Mason, director of the Oral Communication Center, to Professor of History Douglas Ambrose, who gives an orientation lecture on the history of Utica.
"The meetings are as much of an education for me as anyone," James adds.
Although four semesters can seem like a long period to commit to one organization—especially for an internship—James stresses that the COOP "targets agencies that will be good mentors for our students," and stated that they try to place students with agencies that will "dovetail with an academic interest."
Students are quick to see the benefits of the long-term schedule.
"I think the extended time frame is one of the best things about the CSI program," Thomas Funk '15 said. "Knowing that I'm working with my organization for the next two years allows me to immerse myself more in the work that I'm doing."
If the program were shorter, "by the time interns adjusted to their center, they would be getting ready to leave," O'Sullivan said. "A lot of the changes we hope to implement at our various non-profits do not take place overnight."
Although James acknowledges that the first semester of the program is functionally an orientation to the intern's assigned agency, she points out that by the second semester students are doing independent work within their agencies, frequently designing and spearheading projects. Student interns, she says, can often give agencies a fresh perspective on their work.
Katie Jickling '15 echoes this insight: "I knew I would be partnered with an organization that valued my abilities and time, and would help me to learn and benefit from the work I was doing."
After three successful years of running the program, James has noticed that a certain type of student gravitates towards the internship. "It seems to attract really committed self-starters," she said. "They're usually pretty organized and outgoing." Many interns have had previous community service experience, so the internship is a natural next step.
"I participated heavily in community service programs throughout high school," Cole Trager '15 said. "The CSI program just seemed like a logical extension."
Although the tangible benefits to the program are many, James maintains that the CSI program is really about the experience. Interns are often deeply devoted to their agencies: O'Sullivan said she feels "very strongly about [my] organization's mission." This is exactly the kind of response James looks for.
"When you're doing something you love and lose track of time," she said, "that's bliss."