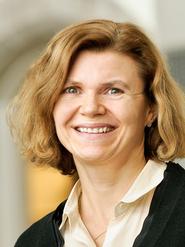 Associate Professor of Chemistry Myriam Cotten attended the Scialog conference "Molecules Come to Life" at Biosphere 2 near Tucson, Az., March 12-15. Scialog was a multi-disciplinary gathering of physicists, chemists and biologists sponsored by Research Corporation for Science Advancement (RCSA) and the Gordon and Betty Moore Foundation.
Cotten was one of 15 distinguished senior scientists invited to facilitate discussions between about 50 elite early career scientists. RCSA's website notes "Scialog is intended to: support early career faculty to expand research in a focused area of high scientific importance; encourage scientists to form multidisciplinary teams to tackle these critical challenges; and help transition awardees to obtain further funding for their innovative ideas."
This year's keynote speakers included Stony Brook University Prof. Ken Dill, Stanford University's Daniel Fisher, Brandeis University's Jané Kondev, and University of California Santa Barbara's Boris Shraiman. Much of Scialog's program is based on facilitated group discussions to stimulate participant collaboration.
Participants who are inspired by the conversations are encouraged to establish teams and develop collaborative research proposals "on-the-spot" to explore outstanding innovative ideas. Twenty proposals were generated at the 2015 Molecules Come to Life, and RCSA plans to make up to five awards, with additional funding opportunities at next year's Scialog.