Cotten is Panelist at American Society for Biochemistry and Molecular Biology Conference
---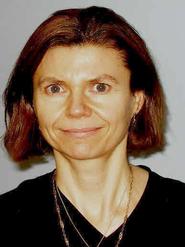 Associate Professor of Chemistry Myriam Cotten served on a panel at the 2010 American Society for Biochemistry and Molecular Biology Conference in Anaheim, Calif. in April. The panel was part of a session titled "The Biochemistry and Molecular Biology Career Spectrum."

Other panelists included Sean Decatur (Oberlin College), Ryan Mehl (Franklin & Marshall College), Kathleen Parson (Macalester College) and Joseph Provost (Minnesota State University Moorhead).

The panel discussion brought together mid-career and experienced faculty from private/independent and public institutions to discuss critical factors in choosing a career at a primarily undergraduate institution (PUI) and experienced approaches for being successful as a faculty at a PUI. The event was sponsored in part by the Council on Undergraduate Research (CUR) and Research Corporation for Science Advancement (RCSA). ASBMB is one of the most important scientific societies with more than 12,000 members worldwide.