Counseling Center and HOC Co-Sponsor First "Wilderness Adventure Quest"
---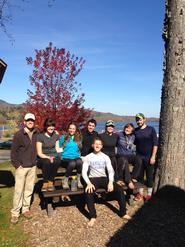 It started with six Hamilton students, one psychologist, and a wilderness expert. Together, they initiated a one-of-its-kind "Wilderness Adventure Quest" promoting self-reflection, self-acceptance and an exploration of Hamilton's motto "Know Thyself."
The trip was conceived by Dr. David Walden of the Counseling Center and Sarah Jillings of Outdoor Leadership. The two friends hoped to use their areas of expertise to offer physically and spiritually willing students the opportunity to explore the Adirondacks and reflect on their lives as Hamilton students and human beings in the natural world. After receiving an overwhelming number of applications, six students- Sam Finkelstein '14, Isabel Krakoff '14, Kate Bickmore '15, Michael Nelson '16, Hristina Mangelova '16, and Gabe Mollica '14 – were selected for the trip.
On a Friday afternoon at the peak of fall color, the plan went into action and the group began their journey north to the Indian Lake area for an evening canoe paddle to the first island campsite. Once there, students learned basic outdoor survival skills, including concerns about hygiene, how to purify water, and tricks to stay warm in the cold night air. Once dinner was had and a fire was aflame, group conversation drifted toward self-reflection and creating a safe space.
Day two allowed for a bigger commitment to the idea of a "quest." The group paddled to a smaller island where the afternoon was dedicated to five hours of "solo time" as a means of both observing and enveloping oneself within the natural world. The solo time called for each student to leave behind an item of some importance, either a physical representation of a relationship with another person, or an object with personal significance. As students left for their solo time, there were given a journal and asked to reflect on what life is asking of them and what they are asking of life. Later that night, the students reflected on their time alone, the challenges they faced, and how they hoped to promote the solace and appreciation of the natural world in our everyday lives.
Overall, the trip was a tremendous success - a group largely made up of strangers learned in a very short time that embracing nature, seeking mutual understanding, and listening to each others' perspectives can lead to a beautiful and potentially transformative experience.
Kate Bickmore '15 particularly appreciated getting off the Hill, noting "The trip gave me the space and time to reflect on myself and my place in the world without the pressures and distractions of my everyday life."
That time also allowed students to feel more at home in the natural setting that surrounds us on the hill. As Gabe Mollica '14 explained, "The trip impacted me by making me more self aware, and proud to be who I am. I came in with no camping experience, and I learned that I could be adaptable in unfamiliar circumstances. The alone time was particularly powerful, as I made a meaningful connection with the natural world I had never experienced before: I felt like I belonged, and that the world impacted me and I impacted it."
All of the students expressed the hope that trips like the Wilderness Adventure Quest continue as opportunities to explore "knowing thyself" through the natural beauty of the environment surrounding the College. The trip allowed for a weekend of joy, challenges, self-exploration, and sharing that will ideally continue to develop a compassionate, confident, and self-aware campus culture.
Hristina Mangelova '16 recommended the trip "to every person who is looking for an escape from the daily stress on campus. No matter how much homework you have, spending the weekend out in nature, having some quiet time with your thoughts and sharing that with other students who are seeking peace is never a waste of time! Go on the trip, you won't regret it," Mangelova suggested.