Couper Phi Beta Kappa Lecture Presents "Is Google Making Us Stupid?"
---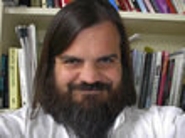 This year's Couper Phi Beta Kappa Lecture will be the presentation of a response to
"Is Google Making Us Stupid?,"
a July/August
Atlantic
article by Nicholas Carr. Bryan Alexander, the director of Research for the National Institute for Technology and Liberal Education (NITLE), will discuss his reaction to the question on Thursday, Jan. 29, at 4:15 p.m. in Hamilton College's Kennedy Science Auditorium in the Science Center. Alexander develops programs exploring the emerging uses of information technology in liberal arts contexts. His primary research interests focus on mobile and wireless computing, digital gaming and social software. This event is free and open to the public.
Alexander earned a Ph.D. from the University of Michigan and taught English and information technology studies at Centenary College of Louisiana. He maintains and contributes to a series of weblogs, including Liberal Education Today (http://b2e.nitle.org/), which provides environmental scanning for emergent technology and higher education and is written for a general audience. Committed to exploring computer-mediated pedagogy, he writes on the critical uses of computers and teaching in terms of the interdisciplinary liberal arts and the contemporary development of cyberculture.
This presentation is part of the Couper Phi Beta Kappa Lecture series which was established in 2005 to honor Hamilton alumnus Richard "Dick" Couper '44. Couper died in January 2006. This yearly lecture recognizes Couper's commitment and contributions to the college and the Phi Beta Kappa Society. Each year a distinguished speaker is invited to present topics related to the college's special library collections or to present an issue related to libraries in general.
Couper was a staunch advocate for and supporter of Phi Beta Kappa on campus and nationally. In 2000 he and his wife, Patsy, established the Couper Phi Beta Kappa Book Prize, which Hamilton awards annually to the top 10 rising sophomores. Nationally, Couper served as president of The Fellows of the Phi Beta Kappa Society, a select group of distinguished supporters whose efforts have made possible much of the success of the organization and whose tangible support has contributed greatly to its stability, according to The Phi Beta Kappa Society secretary John Churchill. In recognition of his service, the Fellows of Phi Beta Kappa created the Richard W. Couper Lecture. Couper and eight family members were Hamilton Phi Beta Kappa graduates.
Having served 46 years as a trustee of Hamilton, Dick Couper was second only to Elihu Root in length of tenure in that role. He showed his support in many ways, including his contributions to Burke Library for special purchases and his establishment of an endowment for the Couper Librarian. Couper, his wife and his parents also established the Williams-Watrous-Couper Fund, an endowment that supports faculty research and teaching improvement. He contributed his time as well as his financial support to the College and was recognized for his efforts with the 2004 Volunteer of the Year Award.
Phi Beta Kappa is the oldest academic honorary society in America. Membership in it provides wide recognition of academic achievement. The Hamilton College chapter of Phi Beta Kappa was established in 1869, making it the fifth oldest chapter in the state and giving it the designation as the Epsilon Chapter of New York.