Couper Press Publishes New Volume
---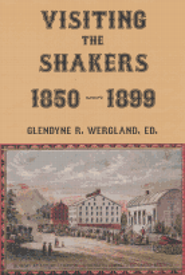 The Richard W. Couper Press has issued a new publication, Visiting the Shakers, 1850-1899: Watervliet, Hancock, Tyringham, New Lebanon, edited by Glendyne R. Wergland. This is a companion to her earlier volume published by the Couper Press in 2007, which covered 1788-1849. Visitors to Shaker communities recorded impressions of Shaker life, material culture, and worship. These 85 accounts provide a valuable window into Shaker life.

Wergland's painstaking work in locating and transcribing these accounts has resulted in a volume that will have enduring value for historians of the Shakers and American culture in general.

The publication is 456 pages, and includes 45 black and white illustrations. The cost is $35. Orders can be sent to Richard W. Couper Press at Burke Library.