Courtney Flint '11 Examines Relationships Between Continental Soldiers and Citizens
---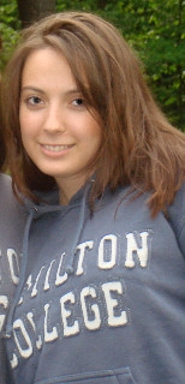 When Courtney Flint '11 was five years old, she learned what it was like to be a colonial American. Her aunt belonged to a group called Past Masters whose members dress in period clothing and resurrect the behavior, skills, and lifestyles of Americans during the Revolutionary War era. Flint joined her aunt in these activities and watched the battle re-enactments that were often popular attractions. The raucous canon blasts and trim uniforms intrigued Flint, and as she grew older, she began to wonder about the relationship between the soldiers and the citizenry.

This summer, she is working with Professor of History Douglas Ambrose on a project titled "Understanding the Continental Army in Revolutionary America." She wants to investigate the interactions between townspeople and Continental soldiers. She also will see how the soldiers' motivations for joining the cause conflicted with or ran parallel to an ordinary citizen's values.

For example, Flint poses the question of why soldiers would want to fight when their chances of victory were slim to none. This leads to a number of other questions. How did the American people react to such seemingly fruitless risk-taking? If Americans were indifferent to the soldiers' hard work and constant strife, then what inspired the Continental Army to keep pushing? What was the perception of the Army among citizens? Flint hopes that the answers to these questions can tell her how the memory of the war contributed to the development of a nation.

Flint will receive guidance from Ambrose throughout the summer, but most of the process is up to her. She will incorporate primary and secondary sources into her research, such as newspaper articles, officer's journals, memoirs, broadsides, pamphlets, and sermons.

So far, she has discovered two arguments and will consider both of them. One theory says that the soldiers were only in it for the money. However, Flint believes in the other theory, which says that surrounding the war was a controversy over virtue. "I find it compelling that they felt they could win because they were virtuous and the British were not," she said. "Where did the virtue lie? The citizens believed it lay with them, and a standing army populated with people from the lowest levels of society couldn't possibly be virtuous."

The soldiers thought they were the noble ones. "They felt that the society really didn't support them, so they were really ravaged by disease and hunger," Flint said. "They thought they had virtue because they were sticking it out and fighting for the cause." At the end of the war, the citizens gave credit to the militia because many of their friends and family populated it, even if it was really the Continental Army that won the war.

Flint will write a long paper or series of several smaller papers at the end of the summer documenting her findings. Her primary inspiration for this project was Ambrose's excellence in teaching. She pointed out that Ambrose's lively attitude and intense curiosity is contagious.

Although her experiences as a child helped her pick a topic, her primary concern was who to select as an advisor. She really wanted to gain research experience through a professor she knew would motivate her. She had done well in Ambrose's American colonial history course, and was certain that he would encourage her to enmesh herself in historical literature.

"I didn't pick a topic," Flint said, "I picked a professor."