Cram & Scram Makes Tons of Difference in Recycling Effort
---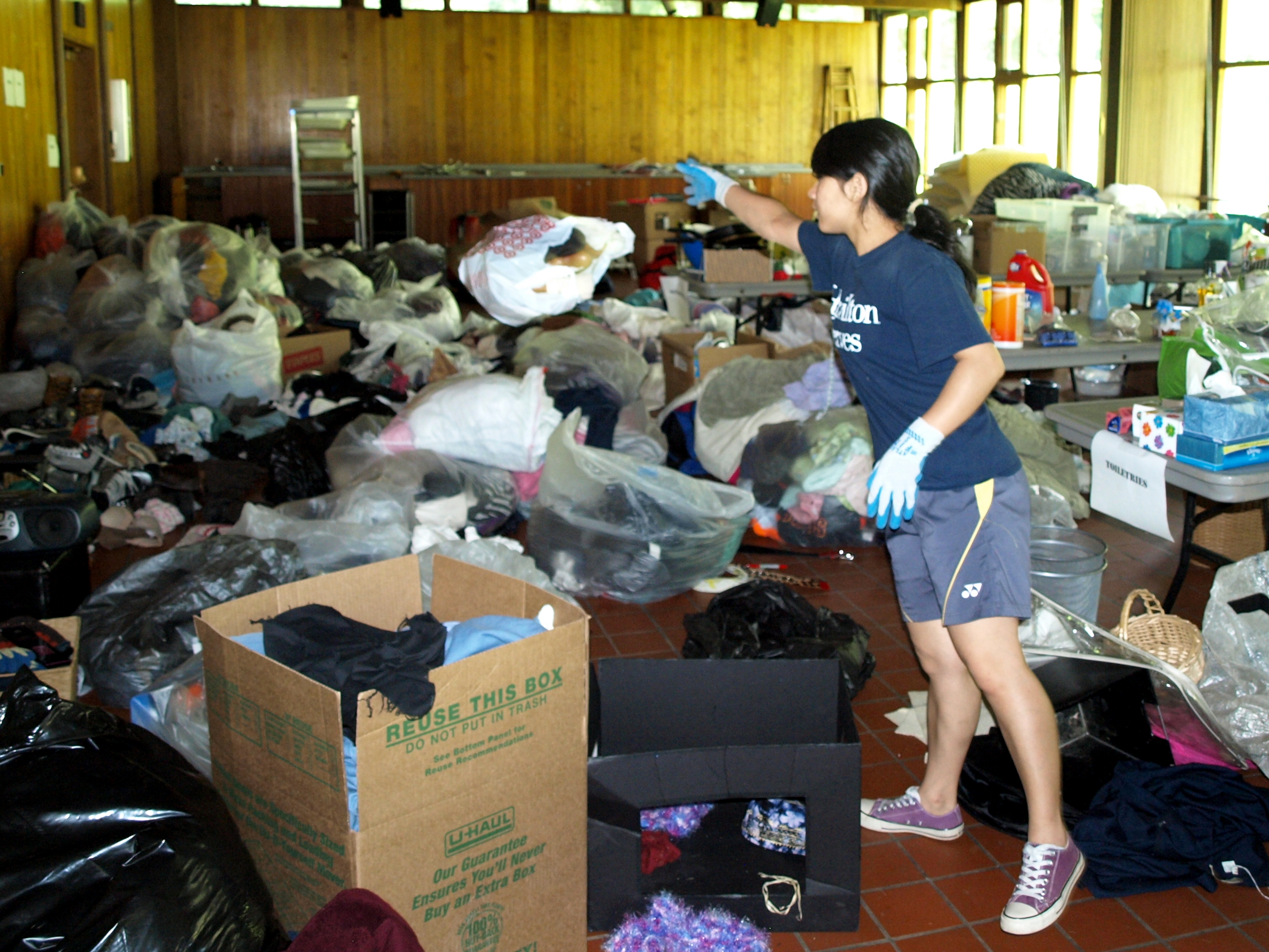 Twenty eight percent – that's the amount of landfill waste Hamilton College's annual Cram & Scram program reduces each May. Entering its fifth year, Cram & Scram is a non-profit, student-run recycling program aimed at reducing the inevitable landfill contribution that comes every summer as students move out of their residence halls.
The Cram & Scram program removes nearly every type of item that could feasibly be left behind in a dorm room, including textbooks, furniture, kitchen supplies, toys, clothing, bedding, food, small appliances and even a five-foot inflatable turkey which was found in this year's collection. Under the Cram & Scram program, these items are recycled, donated or sold back students in the fall to be reused for yet another academic year instead of simply being thrown out. The Cram & Scram program has allowed the college to reduce its landfill waste by more than 90 tons in previous years.
In addition to benefiting the environment by reducing waste, the Cram & Scram program also benefits the greater Hamilton community. In past years, nearly half a ton of books were donated to the charitable program Prevent Child Abuse NY; more than one ton of bedding was donated to local humane societies; and nearly 2.5 tons of clothing were donated to the Salvation Army. Nearly 12 tons of other recyclables are sent to the Oneida-Herkimer Recycling Center. Only five years ago, almost all of these items would have ended up as solid landfill waste instead of being recycled or helping the local community.
The Cram & Scram program also makes life a little easier for students coming back to campus in the fall by providing furniture, appliances, and other dorm room necessities at incredibly low prices (such as pristine microwaves and mini fridges for around $30). What began as a fall tent sale has grown in recent years to encompass the entire Sage Rink, with rows and rows of items all priced at $50 or below.
The Cram & Scram program was originally spearheaded in 2008 by Terry Hawkridge, assistant director of Physical Plant, Grounds, Horticulture, and Arboretum, but is primarily student run. Hawkridge hired 19 students for this year's Cram and Scram program, up four from last year, in order to ensure that Physical Plant employees can focus on Reunion preparation instead of clearing out residence halls. Included among this group of hardworking students are Cram and Scram's two student leaders, Adam Fix '13 and Thierno Sylla '13.
Fix has worked for the Cram & Scram program for the past two years, but this is his first year as a student leader. He remarked that while this year's load of recycling seems on par in size with previous years, students have become more knowledgeable about the program itself and have sped up the Cram & Scram process by clearly labeling items intended for pickup and leaving them in the proper pickup locations. Sylla agreed with Fix's assessment, saying that he "was surprised at how efficiently [Cram & Scram workers] were able to go through the items we collected, organized and stored from the underclassmen dorms."
While it is too early to see just how much waste Cram and Scram will reduce this year, it is clear that the program is off to an impressive start. Student leader Sylla noted that, "Just looking around the collection center and the three trailers full of recovered items really puts into perspective the hard work that goes into reducing waste on our campus." The Cram & Scram program is well on its way towards meeting this year's reuse goals, surely thanks in part to the increased level of student awareness noticed by Fix and Sylla and the hard work of Cram & Scram's student employees.