Tons of Stuff at Cram & Scram Tent Sale
---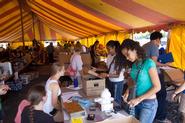 They were lined up at 7 a.m. A passer-by might assume that the hundreds of Hamilton students in North Lot on August 25 were there to buy tickets for a popular band's concert or to take advantage of a free giveaway. But the students gave new meaning to "reduce, reuse and recycle" as they turned out by the hundreds for the 2nd annual Ham Cram & Scram tent sale. Cram & Scram is a reuse/recycle program aimed at reducing end-of-the-year waste; residence hall items were collected at the end of the spring semester, stored over the summer and tagged at bargain basement prices to be snapped up at the two-day tent sale.
Microwaves - $20, couches - $25, TVs - $30. Students could literally furnish their room or suite from floor (rugs) to ceiling (lights). School supplies, ironing boards, extension cords, laundry baskets, computer printers, vacuum cleaners and storage drawers were among the thousands of items for sale. And the student shoppers could buy any of those items for much less than they could at Target or Wal-Mart.
Terry Hawkridge, assistant director of Physical Plant and the person who spearheaded Cram & Scram at Hamilton, estimated that "we've dropped 40 to 50 tons of municipal solid waste from May '07 to this year. This is corporate responsibility." Another benefit was that so much was taken out of the waste stream that Physical Plant employees didn't have to work overtime clearing out residence halls to prepare for Reunions. "That's huge as far as morale and cost savings," Hawkridge explained.
Kathryn Arpino '10 who took the student leadership reins of Cram & Scram from Ashley Langer '09, said this year's sale was bigger than 2008 by far. "The tent is twice as large and we've made well over twice as much money. It's been a lot of work but it's very rewarding," she said. Arpino would like to see the program become self-sustaining and added that other schools are asking Hamilton organizers for advice about bringing similar programs to their schools.
Shelley Sauerhaft '12 and Kasey Hildonen '10 got to North Lot at 7:30 and were the 20th and 21st people in line. They walked away with a TV, two refrigerators, bar stools, a futon, bean bag chair and storage units. "We have a suite so we needed a lot," said Sauerhaft, "and the prices are great," Hildonen added.
John Dunn '10 and Shawn Linehan '10 were buying a couch, chair and lamp for their suite and felt the prices were reasonable. "It's cheaper to buy it here than pay to store it over the summer," Linehan noted.
The items collected in May for the sale filled four 48-foot tractor trailers. Other, non-saleable items were donated to various charities and organizations. Hawkridge estimated that 4,928 pounds of clothing went to the Salvation Army, 10 tons of paper was recycled, and 2,164 pounds of bedding went to the Stevens-Swan Humane Society. Packaged foods were donated to the Clarks Mills Food Pantry.
In 2007, Hamilton sent 140.53 tons of municipal solid waste (MSW) to the county landfill, a number that alarmed the College and caused students to rethink what they threw in the trash. Hawkridge and some students proposed the Cram & Scram program, and this year, they hoped to reduce the MSW to about 90 tons. They were successful – Hawkridge reported that the MSW is now at 90.81 tons.
The sale will be open again on Wednesday, Aug. 26, from 9 a.m. – 2 p.m. Members of the local community are welcome to come purchase remaining items. Anything left will be donated to the Salvation Army.