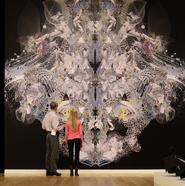 "Some exhibitions are very good and you leave with a feeling that the artist met your expectations and gave you something to think about. But there are those rare shows where the artist actually raises the bar and the work leaves you feeling as if you've been privy to something extraordinary.
"That is what resulted from a visit to the Wellin Museum of Art at Hamilton College in Clinton to see the one-person show by the internationally acclaimed contemporary artist Alyson Shotz." So began the Syracuse Post-Standard review by writer Katherine Rushworth of the Wellin Museum's current exhibition, "Force of Nature." The show is scheduled to close on Sunday, April 5.
Showcasing a broad range of the artist's creative output, featuring large-scale sculptures, prints, ceramics, a wall drawing and an animation – many of which are on view for the first time – the show generated media attention from national and international media as well as from local outlets. Sculpture magazine described Shotz's work as "exquisitely conceived and crafted experiments that transmute scientific principle into poetic mystery." The article continued, "Piano wire, glass beads, straight pins, thread, mirrors, and plastic lenses transcend mundane physicality to become conduits of light, gravity, mass, time, and space. ... From expandable sculptures shaped by gravity to materializing and dematerializing patterns of light, to forms unfolding in time and space, her work forges unexpected alliances between artistic and scientific vision. 'Force of Nature' features a broad selection of discipline-bridging works—many of them specially created for the conditions at the Wellin—including elusive wall drawings, large-scale sculptures, ceramics, an animation, and evocations of impossible sculptural dreams."
Artsdaily.org also posted a video focused on Shotz in addition to an earlier feature article on her exhibition. ArtInfo published an interview with Shotz focused on her work. Casa Vogue, a Portuguese publication, included a multi-page article on the show with many accompanying images.
"This show is an example of someone working at a consistently high level, where medium and message are perfectly matched and executed with unwavering technical perfection and aesthetic sensitivity," Rushworth wrote at the conclusion of her Post-Standard review. "Alyson Shotz is an artist who doesn't disappoint, doesn't let down and will leave you thinking about her work and the ideas behind it for a very long time."
The public has a little more than a week to experience this exhibition. The museum is open from 11 a.m. to 5 p.m. Tuesday through Sunday.