Cultural Mediation is Topic of Days-Massolo Center Talk
---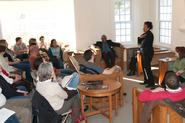 On Tuesday, February 22, the new Days-Massolo Center held its first presentation on cultural diversity. The Center, which opened earlier this year, is meant to provide support for and foster dialogue about cultural diversity at Hamilton. Through its first lecture, it achieved this goal. The speaker, Giovanna Zaldini, a Somali-Italian cultural mediator, presented an informal discussion about cultural mediation. With the assistance of Visiting Italian Instructor Serena Grattarola as translator, Zaldini opened up about her personal experience, provided a background on immigration to Italy, and related the importance of cultural mediation in the lives of many immigrants.
Zaldini immigrated to Italy from her native country, Somalia, when she was 18, so that she could attend the University of Turin, where she studied anthropology and geography. She related that she was lucky to have been given the opportunity to leave the country, even though she has been unable to return to her first home. Her Somali heritage clearly influences her work, because Zaldini is a pioneer for women's' and immigrants' rights. She is a co-founder of Alma Mater of Turino, a center for support for women and diversity.
One of the first points Zaldini made was about cultural mediation itself. At first glance, the profession may appear to be synonymous with translator. But cultural mediation is about overcoming more than just a language barrier. In a country like Italy, many immigrants from Latin America, Africa, and the Middle East experience culture shock upon arrival. Every aspect of family life, from gender roles to child education, is suddenly called into question, and often even reversed. Cultural mediators, such as Zaldini, provide support and help ease immigrants into the transition not just to a new country, but to a new way of life. According to Zaldini, it is impossible to make a comfortable switch between two wildly different cultures, and some stress is bound to occur for immigrating individuals and families.
Thirty years ago, Italy was entirely unaccustomed to immigrants. It was not until approximately 1980 that immigration picked up, changing the face of Italian life. Now, more than 4,000,000 immigrants reside in Italy. At first, immigrants came into the country as individuals. Men and women left their families behind in order to work in Italy and send money back home. The addition of these one-member units did not pose problems originally. However, when families began joining the immigrant parent, conflict frequently arose.
For example, many women still work in Italy for several years before their spouses and children can join them. When the family is reunited, these husbands suddenly live in a world where male figures stay at home and raise children while the females take part in the workforce. This reversal of gender roles can be quite a shock to these men and many of them feel as though they are giving up their place as head of household. As a result, domestic tension arises, sometimes to the point of violence. At this point, mediators such as Zaldini may step in to help guide the family past its newfound difficulties. As a Somali immigrant herself, Zaldini can relate to these people and steer them toward adjustment.
Other issues arise with parenthood. The children of immigrants are frequently torn between a society that wants them to be purely Italian and parents that want children to remember their heritage. Again, tension arises and parents can become overly-controlling in an attempt to maintain a connection with their children. Sometimes, adolescents will even run away from home to leave this strained atmosphere. Zaldini's efforts can make a difference in situations such as these as well, helping families to mend the rifts between them in order to make the unit as whole as possible.
The situation for immigrants into Italy is highly complex. On one hand, many immigrants are eager for the many opportunities they can explore in their new home, but on the other, the cultural bonds that help shape immigrants' identities are challenged to the point where family unity is threatened. Though not every issue leads to a perfect resolution, Zaldini's work at Alma Mater helps immigrants make the smoothest conversion possible to new relationships, new outlooks and perhaps even new hope.

Zaldini will participate in a panel discussion, "Somali Diaspora: Refugees, State and the Politics of Belonging" on Thursday, Feb. 24 at 4:15 p.m. in the Red Pit. She'll be joined on the panel by Rima Berns-McGown of the Center for Diaspora and Transnational Studies at the University of Toronto and Hamilton Professor of Government Steve Orvis.

Tuesday's discussion was sponsored by the Irwin Chair Fund with the support of the Women's Studies Department, the Department of Africana Studies, the Office of the President and Chief Diversity Officer, and the Institute for Global Africana Studies.