Cultural Odyssey's Rhodessa Jones and Idris Ackamoor to Perform
---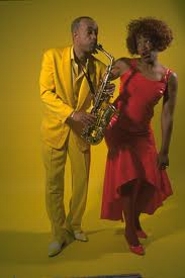 Two events featuring Cultural Odyssey's Rhodessa Jones and Idris Ackamoor will take place on Monday, Feb. 25, and Wednesday, Feb 27. The events are free and open to the public and no tickets are required.
On Monday, Feb. 25, at 4 p.m., Rhodessa Jones presents A Woman for the 21st Century - The Medea Project in the Kennedy Auditorium, Taylor Science Center. In this unconventional talk/demonstration, Jones will read from performance material and her writings, perform short excerpts from her repertoire, and show video footage of her work in the American, South African and Italian prison systems. Jones addresses the use of theater as a "healing tool" through which we can begin to examine the conditions that powerfully affect our daily lives such as racism, sexism, homophobia, addictions and fear.
On Wednesday, Feb. 27, at 7:30 p.m., Jones and Ackamoor present Mixed Repertory, an evening of spoken word and interdisciplinary performance drawing material from their latest productions including The Resurrection of SHE: From Frisco to Soweto, The Love Project, and Performance Music. It will take place in the Fillius Events Barn.
Cultural Odyssey is one of the oldest African American performing arts organizations in California. Founded in 1979 by musician Idris Ackamoor, and joined in 1983 by performance artist Rhodessa Jones, Cultural Odyssey's mission is to support the artistic work and vision of them and an ancillary group of emerging, community and established performing artists.
Rhodessa Jones is a performer and director of the Medea Project: Theater for Incarcerated Women/HIV Circle, a performance workshop that is designed to achieve personal and social transformation with incarcerated women. Idris Ackamoor is a multi-instrumentalist, composer, actor, tap dancer and director. He is the founder and co-artistic director of Cultural Odyssey and the artistic director of the Jazz/World Music Ensemble, The Pyramids. Jones and Ackamoor were recently selected as arts envoys by the U.S. Department of State, Educational and Cultural Affairs Bureau to conduct an international six-week residency/workshop process inside the Naturena Women's Prison in Johannesburg, South Africa.
Support for these events comes from the Dean of Faculty, Diversity and Social Justice Project, the Days-Massolo Center, Performing Arts at Hamilton, Kirkland Endowment Advisory Committee, and the Departments of Theatre and Comparative Literature.