Curling Team Takes Silver in Regional Competition
---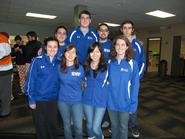 This past weekend, the Hamilton College Curling team traveled to Bowling Green, Ohio, to compete in the Bowling Green Regional Bonspiel.
Two teams from Hamilton competed in the event. Max Lopez '15 (skip), Jake Davidson '15 (vice), Amelia Mattern '12 (second) and Anna Yakabe '13 (lead) competed in Division III, and Lindsay Shankman '12 (skip), Christopher Boisvert '12 (vice), Sam Doyon '12 (second) and Talia Steiman '12 (lead) took silver in Division II.
Teams competed against students from Bowling Green State University, RIT, Villanova and the University of Tennessee during the three-day tournament.
This weekend, Hamilton's Curling Team will be hosting a tournament at the Utica Curling Club, located 10 minutes from campus. Games start at 9:30 p.m. on Friday, Feb. 24, and go from 9 a.m. to 6 p.m. on Saturday. Come out and support your curling team in their only home event of the year!