Curren Krasnoff '16 Launches Cortex Composites
---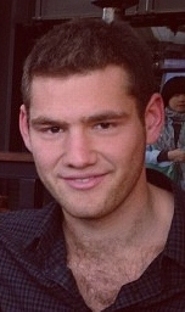 For most students, earning a degree usually comes before starting a company, but for Curren Krasnoff '16, the call to create a business of his own was simply too strong for him to wait.
While Krasnoff has always had a self-described "entrepreneurial spirit," his first serious thoughts about founding a company didn't emerge until 2011, when he worked as an intern in business operations at CREO Capital Advisors. Over the course of the summer, Krasnoff came across an innovative but expensive flexible composite that was seeing limited use in European military applications. Realizing the potential for a less expensive alternative for diverse uses, such as irrigation canal lining or erosion control, he set off to learn all he could about textile and composite reinforced concrete.
By the end of that summer, Krasnoff had pored over more than 500 scientific journals, purchased materials and successfully prototyped his product, a composite lining material that is both flexible and light yet sets to the strength of concrete. While his product had the potential for many applications, he saw the greatest need for his composite in the area of canal construction in the developing world. "Canals are the primary systems for supplying water and canal lining is the key element to improve efficiency of water usage," said Krasnoff. "Fresh water is the lifeblood for economic growth throughout the world," he noted, "yet demand currently exceeds supply in many parts of the world. As the population grows, access to fresh water will become a dominant human rights issue."

Currently, only two widely available types of material exist for canal construction: flexible linings, like plastics, and rigid materials, like stone and cement. Flexible linings have the benefit of low cost and easily installation, but are prone to tearing and have short life spans. Rigid materials, on the other hand, are durable and long lasting but expensive to build with and transport. Krasnoff's prototype combines the best of these two options in the form of a "lightweight and flexible canal lining composite that can be applied as easily as plastic sheeting, but set to a durable rigid material when hydrated … combining the ease of application of flexible liners with the extended service life of rigid liners at a greatly reduced cost."

By that November, Krasnoff had completed his first preliminary patent application and raised enough capital in his first round of funding to consider taking on management of his company full time. This left him with a difficult dilemma: his family wasn't supportive of the idea of taking a leave of absence from Hamilton, but he knew that he had the drive and resources necessary to commercialize his product.

Compelled by the knowledge that his idea was both financially viable and capable of improving water access for those in need, Krasnoff decided to put college on hold and co- founded Cortex Composites with Daniel Rudyak, a 2013 cum laude candidate for a bachelor's degree in business administration from the USC Marshall School of Business. Cortex hired an industry recognized engineer, Barzin Mobasher of Arizona State University, who confirmed the results of Krasnoff's initial testing. Today, two patent submissions, nine co-inventors and $200,000 in funding later, Cortex Composites is in the process of licensing its technology to an established manufacturer and distributor. After seeing Cortex Composites through to further successes, Krasnoff plans to one day go back to college and finish his degree.

Krasnoff emphasized that his success would not have been possible without his strong support network of friends, family and partners. His father, Darell Krasnoff, founding member and managing director at Bel Air Investment Advisors, has served as his mentor and guide in the area of business practices. Krasnoff's lawyer, Deepak Nanda at Foley and Lardner LLP, was also a great help in founding the company. Finally, Krasnoff acknowledged the support of his partners, David Lee, Eric Coonrod, Robert Fagan and Daniel Rudyak, remarking that Cortex Composites would not have seen the growth it has without their aid.
Cortex Composites recently was named to the Kairos 50, an annual list of the 50 most innovative student-run businesses in the world. Founded in 2008, the Kairos Society is a non-profit 501(c)3 organization based in the United States. According to its website, "We work to find and empower the young pioneers who will push the world forward through entrepreneurship and innovation - we do so with the support of the top universities, mentors, and corporations across the globe."