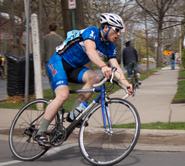 Seven members of the Hamilton College Cycling Club competed in the Eastern Collegiate Cycling Conference's Nittany Classic hosted by Penn State in State College, Pa., on March 31-April 1. Events included a rolling 9.5-mile team time trial and 21-mile loop road race on Saturday, as well as a criterium, or short technical loop which cyclists ride for a specific number of laps, on Sunday.

Stephen Wright '13, Hamilton's top rider, placed 15th in the 63-mile (three lap) Men's A road race on the ECCC's most challenging course. The mountainous course made its way through Black Moshannon State Park and included a five-mile hill climb with 2500 ft of elevation gain, which Hamilton riders considered to be one of the most brutal hill climbs of the season. Marco Scheuer '14 won the 21-mile Men's D road race, followed by Ben Conley '15 who placed 4th overall. Lucas Harris '12 competed in Men's C division with a respectable 36th place finish.
On the women's side, team captain McKayla Dunfey '13 and Claire Sayler '12 represented Hamilton with a 2nd place finish in the Women's C Team Time Trial. On Sunday, the team competed in a highly technical, seven corner, fast-paced criterium. Wright '13 placed 19th in Men's A, Scheuer '14 placed 6th in Men's D, and Dunfey finished 4th in the Women's C division.

The team started its racing season in early March and plans to spend the next four weekends traveling throughout New England to compete in the remainder of the ECCC series. Hamilton is currently ranked 18th among Division II schools. Competitors include schools such as Middlebury College, Boston College, Princeton University, Rensselaer Polytechnic Institute and Tufts University. Five members of the team will head to New Haven, Conn., this weekend to compete in the Lux et Velocitas, hosted by Yale University.
The Cycling Club trains in both fall and spring and provides both new and experienced riders with the opportunity to ride and compete at the collegiate level.