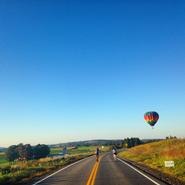 The Hamilton College Cycling Team has enjoyed a very successful spring season. While many not even know that such a team exists, the determined students who race for this club team have seen their hard work pay off with strong finishes at many races.
The Cycling Team races in the Eastern Collegiate Cycling Conference (ECC), which holds road races every weekend from March through to the end of April. Every weekend has three different races: team time trial, road race and criterium. The races are further divided by gender category and experience with the more experienced groups racing further distances at faster speeds.
This season the Men's team has been consistently winning or coming in 2nd in the team trial and senior Courtney Anderson has had numerous top five finishes for her races. These successes are all the more impressive when you consider the competition. Anderson described the league, "what's interesting about cycling is that our league is composed of all the schools in the Northeast, so small teams like ours are racing against big schools like Penn State and NYU. Despite that, our team as a whole came in 9th out of 24 schools this past weekend for points."
The team goes for two-hour rides several times a week through the spring and the fall in order to train. The hilly terrain and sparsely traveled roads around Hamilton provide exceptional training grounds for success. "Many people on the team have commented on how Hamilton might arguably have the best location for cycling in the Northeast: tons of rural roads to choose from and great opportunities for finding lots of hills," said Anderson.
For more information contact Peter Skaggs '16 at pskaggs@hamilton.edu or find the team on Facebook.