Cynthia Kolko '91 Writes First Novel
---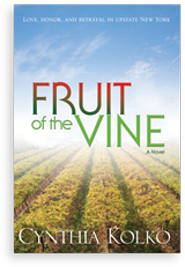 In May 2011, Charles River Press will release Fruit of the Vine, the debut novel by Cynthia Kolko '91 The book's setting is inspired by the Finger Lakes region, and the story focuses on Jemison "Jem" Loud, a vineyard worker who inherits a historic farm after his father's death and uncovers family secrets as he decides what to do with the property. "The general message, really at its base, this book is about nature versus nurture, the things that we're genetically predisposed to, the things that we glean from the environment and then ultimately what we do with it all," says Kolko.

Kolko wrote the novel over two-and-a-half years and is currently working on a second novel and several short stories. She describes her writing on her website: "I am drawn to stories that contain gritty elements as well as surprises, both in the plot and the writing. In Fruit of the Vine, the language can be flowery, yet the dialogue is often raw, perhaps jarringly so. This dichotomy is intended to mirror some of the story's contrasts– beauty and ugliness, good and evil, present and past– and the way they intertwine in the story and in the characters themselves."

In the past Kolko has worked in communications, advertising, sales writing, speech writing and broadcast writing. At Hamilton, she majored in English, but says, "I had never really tried fiction writing until recently, not since college anyway."