Cynthia Mondesir '95 Describes Journey From Hamilton to Alaska
---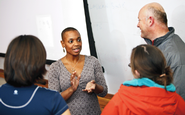 Bethel, Alaska: The sun hits hard. The daylight can last for 23 hours... or just four, depending on the season. The trees are short, the shrubs are small; the land is bare and just underneath the soil is a permanent layer of ice -- that is, permafrost. All of the fuel to be used during the winter months must be gathered by November, before the rivers freeze and the supply barges can no longer travel in and out of the area. And none of the houses have a basement or underground piping; the pipes must be laid outside and treated with antifreeze, lest they expand and crack in the sometimes -50 degrees Fahrenheit temperature, -60 with wind chill.
"Yeah. It's cold," said Cynthia Mondesir, deadpan. Mondesir is a pediatrician in Bethel; she is part of the Yukon Kuskokwim Health Corporation, a system of hospitals that services more than 50 rural communities in southwest Alaska. As such, she takes clients from 15 different villages; this means she must often activate transport, usually by airlift, just to get patients to the hospital in Bethel, though sometimes, if the trauma is extensive enough, she will transport them from Bethel to Anchorage, even to Seattle.
Mondesir is also a 1995 graduate of Hamilton, back to offer her audience in the Red Pit an account of "how I ended up where I am today."
It's a story that begins with a journey from Brooklyn to Haiti. Mondesir was four-years-old; she and her parents, who had themselves just several years earlier emigrated from Haiti, were coming home from dinner and they were assaulted in the street. Her father was shot five times. Mondesir watched as he lay dying and as the paramedics worked desperately to revive him. He passed away, but "that was my first memory of wanting to be in medicine," Mondesir said. "The way they tried to breathe life into him."
Mondesir's mother, then fearful for her daughter's safety, sent her to live with her grandmother in Haiti. But it wasn't all bad: "actually, it was a great time," Mondesir explained to the audience. "My grandmother was a wonderful playmate. I also had a pet goat that I used to play with." Then she hesitated. "But he got eaten."
After five years, Mondesir returned to the United States and attended public school. "My mother had no concept of the education system," she said, and so oftentimes Cindi would have to forge her mother's signature on school documents and paperwork.
The years passed: Mondesir proved to be a good student; she was accepted to Brooklyn Tech, one of the best high schools in the country. In her senior year as she was considering colleges and "thinking along the lines of small liberal arts school," Hamilton sent a bus to New York City to pick up prospective students and drive them to the Hill. Mondesir accepted the offer. "As I first stepped into the Root Glen, I remember thinking, 'this is a great place.' It looks just like Haiti!"
Mondesir explained that "Hamilton gave me the opportunity to grow, to experience things that I've never experienced before. I learned how to operate and negotiate in the greater world." Upon graduating she worked for a while as a hiking instructor at the Manice Education Center in Massachusetts, then as an eighth grade earth science teacher in New York City. "I think it's important to take time off after you graduate," she remarked. "Take a year and do something, clear your mind."
She eventually applied to multiple medical schools and was accepted to Ohio State. In her third year, her mother was diagnosed with breast cancer. "The funny thing about being in medical school and having someone you know with a disease you've studied is that you know just enough to drive you insane," Mondesir remarked. Her mother beat the cancer at the time, but it returned unexpectedly several years later and claimed her life. "I am a physician, but I am also a daughter," Mondesir said, highlighting the difficulty of reconciling the two, of playing both roles at the same time. She noted that it's a terrible feeling to be in medicine and yet be helpless to save a loved one.
A short time after her graduation from Ohio State, Mondesir landed the job in Bethel and moved out to Alaska. Yes, the change was drastic, but Mondesir is used to change. She quoted Napoleon Hill: "The strongest oak of the forest is not the one that is protected from the storm and hidden from the sun. It's the one that stands in the open where it is compelled to struggle for its existence against the winds and rains and the scorching sun."