D.C. Students Discuss Foreign Policy with Brookings' VP
---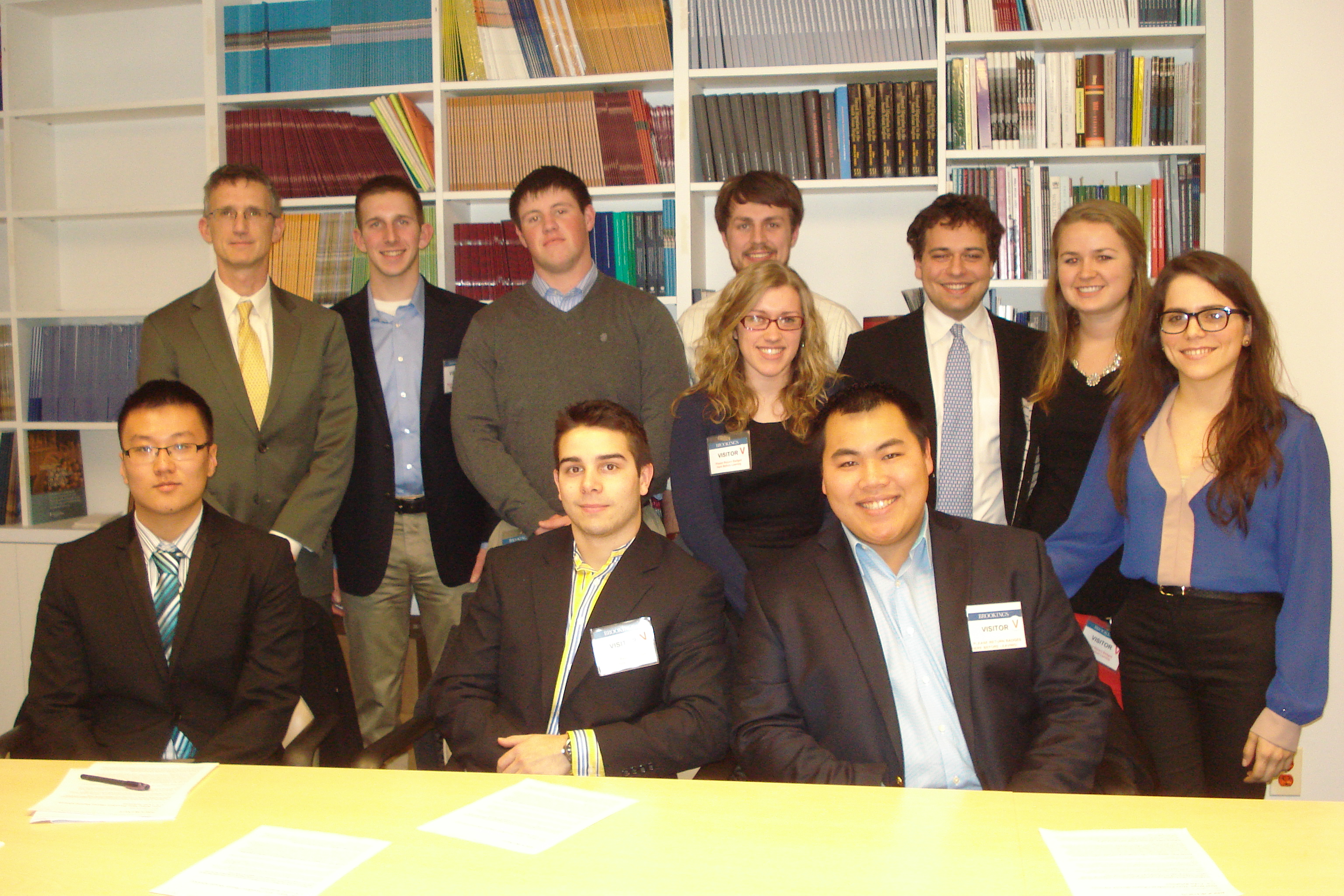 Students in the Hamilton College Program in Washington, D.C., met on Feb. 12 with Ted Piccone, the acting vice president and director of the foreign policy program at the Brookings Institution, for an in-depth discussion of U.S. democracy promotion. The Brookings Institution is a highly respected, private, nonprofit organization devoted to independent research and innovative policy solutions.
Piccone offered the students an inside view of U.S. democracy promotion efforts over the last two decades, drawing on his experience working for the Clinton administration in the Department of Defense, as director of inter-American affairs on the National Security Council, and on the policy planning staff of the State Department. In his view, "democracy promotion today is in trouble," as Americans are war-weary and increasingly reluctant to commit their country to involvement overseas. Read more here.
Piccone has regional expertise in U.S.-Latin American relations and has been a vigorous advocate of easing U.S. sanctions on Cuba. Additional steps in the direction of relaxing U.S. trade and financial policy toward the island—a policy change that was initiated by President Obama several years ago—will foster the free movement of ideas, goods, and people that can inch Cuba along the path to democracy. An elaboration of these ideas can be found here.
One student who paid particularly close attention to Piccone's recommendations was Gretha Suarez '15, a world politics major. Her family moved from Cuba to Florida in stages, and Gretha herself arrived in the U.S. in 2003. She commented that, "As a Cuban-American I enjoyed hearing Mr. Piccone's perspective on U.S.-Cuba relations. I was surprised when he asked me what I thought about his stance that U.S. policy toward Cuba should soften. It was a very informative meeting and I am glad he gave me the opportunity to share my opinion."
Piccone also described his rather unconventional career path that began when he took a job as counsel to the U.N. Truth Commission for El Salvador right out of law school. He now manages and oversees the foreign policy program's 13 centers and initiatives as well as Brookings' offices in Beijing, Doha and New Delhi, in addition to conducting his own research. Piccone urged the students to take full advantage of each position that they hold, since one thing tends to lead to another. "The U.S. is a meritocracy, and that is one of the things that I love about it. There is no shortage of demand for skilled, hard workers," he stated.
The spring 2014 session of the Hamilton College Program in Washington is being directed by Associate Professor of Government Sharon Werning Rivera. The program is offered every semester and is designed to supplement classroom and campus work by giving students the opportunity to study first-hand the operations and programs of the federal government.