D.C. Students Visit the Pentagon
---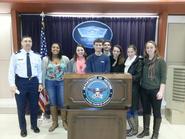 Escorted by Lt. Col. Eric Hannis '90, students in the Hamilton Program in Washington were treated to an extensive tour of the Pentagon on Dec. 11.
Hannis discussed his current work in the Pentagon and provided a general overview of the function of the Pentagon in relation to the Department of Defense. He also provided the students with valuable information about the extensive Hamilton College alumni network in Washington, D.C.
During the tour, the students learned about the various branches of the military and their specific roles in defending the country. The students also visited the Pentagon Memorial, which is dedicated to those who lost their lives during the Sept. 11th attacks.
After the official tour, Hannis took the students to view Pentagon portraits of influential Hamilton alumni, such as Elihu Root, Class of 1864, and Victor Metcalf, Class of 1877.