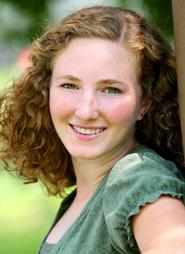 Chemistry major Liz DaBramo '15 is the recipient of a 2015 Undergraduate Student Award from the New York Section of the Society for Applied Spectroscopy (NYSAS). The award recognizes DaBramo's research efforts, specifically her work with mass spectrometry, during her four years at Hamilton.
DaBramo has investigated a variety of environmental chemistry concerns using analytical chemistry methodology culminating in her senior thesis work titled "Comparative Quantitative Analysis of Triclosan and Triclocarban in Consumer Products."
She was jointly nominated for the award by Instrumentation Specialist Greg Rahn, Assistant Professor of Chemistry Adam Van Wynsberghe and Professor of Chemistry emeritus Timothy Elgren.
The award will be presented on June 27 at the NYSAS celebratory meeting.