Dan Morgenstern Ties Jazz History to Oral Tradition in Couper Lecture
---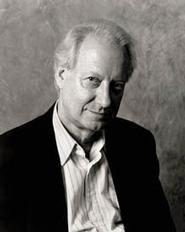 Listening to a short clip of Milt Hinton interview legendary jazz musician Teddy Wilson more than 30 years ago feels as though one is sitting in the room with them as they discuss stories from their lives and careers. This type of easy, free-flowing conversation characterizes many of the 120 interviews conducted over the course of the National Endowment for the Arts' Jazz Oral History Project. Dan Morgenstern, who worked on the project for its entire life from 1972-1983, presented a lecture on April 8 about the intimate relationship between jazz history and oral tradition.
Morgenstern's talk was this year's Couper Phi Beta Kappa Library Lecture. He is an eight-time Grammy Award winner and recently retired head of Rutgers University's Institute of Jazz Studies. For the first time, this lecture was live-streamed to the five other schools in the New York Six Liberal Arts Consortium.
The Jazz Oral History Project (JOHP) was sponsored by the Jazz Advisory Panel of the National Endowment for the Arts' (NEA) Music Program. The project initially began as a way to include older musicians in the Jazz Advisory Panel, as they were unlikely to apply for one of the Panel's fellowships. Over JOHP's 11-year lifespan, however, the 120 tapes of recorded interviews became a vital part of jazz history. Prior to these interviews, much about these musicians and early jazz in general was unknown, and hundreds of scholars have since used the recordings as an indispensable resource.
According to Morgenstern, one of the most important lessons learned from the JOHP's earliest interviews was to carefully match the interviewer to the interviewee. Some of the JOHP's first recordings were not as conversational because the interviewer did not know enough about his or her subjects. In subsequent years, however, some musicians only agreed to take part in the program because a close friend would be the interviewer, resulting in intimate conversation. The interviews range five to 35 hours in length, suggesting a wide variety of depth and engagement between interviewer and interviewee.
Morgenstern remembers one particular interview, a personal favorite of his, between trombonist Quentin Jackson and interviewer Milt Hinton, in which the two "triggered each other's memories," resulting in a vibrant conversation. Another of Morgenstern's favorite pieces in the collection is an interview of Leonard Phillips, in which Phillips details previously unknown aspects of cornet player Joe "King" Oliver.
The tapes reveal a dimension of jazz history that is highly personal and sometimes emotional, irreverent, or humorous. According to Morgenstern, "jazz was the first American institution where there was a breakthrough from segregation," referring to pianist Teddy Wilson's participation in an integrated band in Chicago in 1936. Wilson's fellow band members included famed clarinetist and bandleader Benny Goodman. In a clip from Wilson's interview in which he is asked about race tensions in the group, he claims that not only did the group members get along very well, but there was also "not one negative voice in any audience" they played for. This sort of testimony shows a little-known facet of jazz history, and Morgenstern states that it is "very gratifying" to discover and something so positive about the genre.
Eventually, the Jazz Advisory Panel's makeup shifted to include mostly musicians, whereas in previous years educators, historians, and other jazz professionals were a significant part of the panel. At that point, the Panel ended the JOHP in favor of giving the funding to younger musicians. However, Morgenstern believes that "it's a blessing that these things were done," and "it's a very good thing that it continues to be done" at places like Hamilton College.
The Hamilton College Jazz Archive was established in 1995 and currently holds more than 300 videotaped interviews of jazz professionals. The interviews are available through the library website and are available on loan in DVD format.
Morgenstern's lecture showed an inside look at one of the most important bodies of jazz history available today. He showed that listening to these interviews reveals a story of passionate musicians, American history and deep friendships.