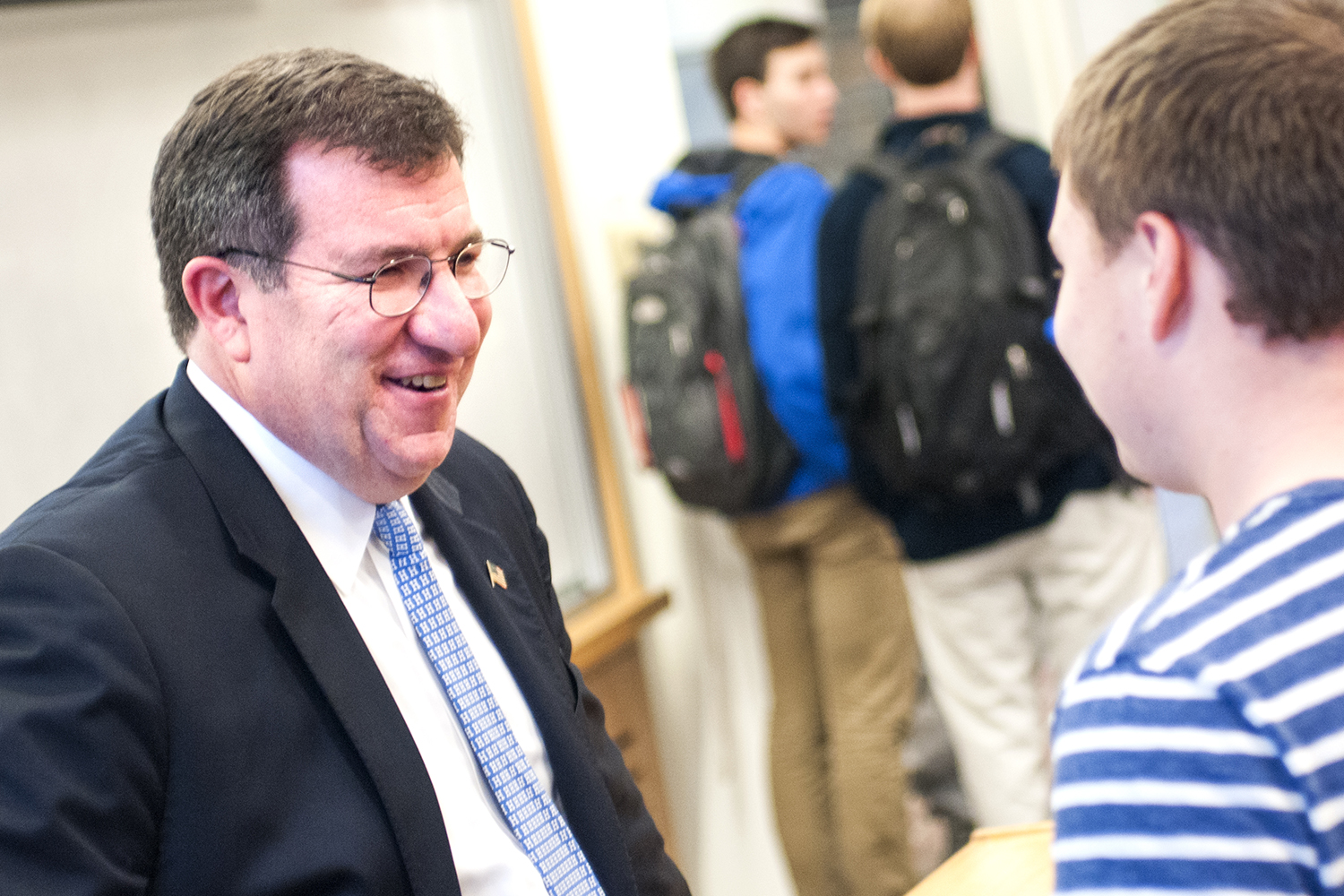 Daniel Connolly '85, P'18, a managing partner of Bracewell & Giuliani, was a trial and appellate attorney during Rudolph Giuliani's mayoral administration (1993-2001). During his administration, Giuliani had exceptional goals to transform the character of New York City. In his Hamilton lecture on Oct. 22 Connolly spoke about how, prior to Giuliani's inauguration as mayor, the city was in disarray, and was rapidly disintegrating as crime rates rose and property values decreased. In order to correct this, Giuliani set forth three major projects: merging police departments within the city, increasing property values through zoning laws, and eradicating consent decrees.

First, in 1993 New York City had three police departments that entirely separate and independent. Giuliani decided that merging these departments would help reduce crime, as it would consolidate resources and allocate them more efficiently. This task, Connolly noted, had been on the mayoral agenda since the 1950's. By 1995, Giuliani had successfully merged the police departments, which, Connolly argued, allowed him to "achieve his vision from making the police department the classic reactive agency […] to proactive agency." In response, the previously independent departments filed 14 different suits against the city. Giuliani's lawyers, including Connolly, successfully defeated each at the New York Court of Appeals, the highest court in the city, thus showing the first of many examples of the power of lawyers in rebuilding the city.
Next, the administration aimed to reconstruct Times Square, which had previously been overrun by explicit shops and criminal behavior. Giuliani's lawyers saw those explicit shops as the root cause of the criminal behavior and the consequential low property values. They sought a legal route to ban these shops, and found one in zoning laws. The lawyers passed a zoning resolution, which would effectively ban the shops from Manhattan, and Connolly recalls that "almost immediately property values tripled." The ensuing legal battles debated whether the zoning resolutions violated the first amendment, which ultimately, were found to be unconstitutional by the Court of Appeals. But, by the time the decision was made, the most economical decision was for the shops to sell their property, thus opening up room for the entertainment industry to take hold.
Finally, Giuliani vowed to release the city from its fourteen consent decrees. Connolly explained that, simply put, a consent decree is what results when an "activist group sues a municipality over treatment conditions, policing, homeless" or related issues. Essentially, they are mandates from federal judges that are in effect until both the judge and the activist group have decided that the given problem has been solved. Connolly emphasized how these decrees degrade a city's sense of autonomy and self-control, as they inherently involve non-locally elected officials making budgetary and logistical decisions for that city. By the end of Giuliani's administration, he managed, with the help of his team of lawyers, to detangle the city from each of the 14 decrees. Connolly concluded that "we see the results every day in a very revitalized city."
The three projects he discussed illustrated how lawyers can become very involved in the construction and maintenance of societies large and small. While he didn't always agree with Giuliani or with what he was required to argue, he reflects on his time as a government attorney with fondness, as it allowed him to "get passionate" since "everything [he did] ha[d] an impact on people's lives."