Daniel Maree, Creator of the Million Hoodie Movement, to Lecture
---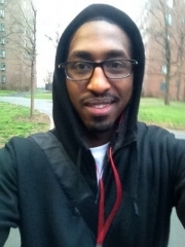 Daniel Maree, a filmmaker and social strategist, will deliver a lecture titled "Lessons from the Million Hoodie March: My Philosophy of Social Change" on Tuesday, Oct. 16, at 4 p.m. in the Red Pit, KJ. Maree created the Million Hoodie Movement in response to the February, 2012 shooting of Trayvon Martin. At Hamilton, Maree will discuss the power of social media and what he learned from this campaign. The lecture is sponsored by the Days-Massolo Center and is free and open to the public.

Maree was raised in South Africa and graduated from American University in 2008. Since then, he has worked for Participant Media, a social action media group whose best-known films include an Inconvenient Truth, Syriana, North Country, and the Kite Runner. From 2009 to 2010, he was a special assistant for the Enough Project to prevent genocide at The Center for American Progress. He also worked as a communications consultant for the World Bank's 2011 World Development Report, which measures the negative impacts of conflict and violence on developing nations.

Maree works as a senior digital strategist for McCann Erickson, one of the world's largest marketing communications agencies. When Trayvon Martin was shot and killed in early 2012, Maree used his position at McCann to start an Internet campaign in response. Dubbed "The Million Hoodie March," the movement was partly a protest of the laws protecting Martin's suspected shooter from being prosecuted, and partly a show of support for the grieving community.

What started with a YouTube video and simple blog became one of the largest Internet protests in history. More than 300,000 photos of supporters donning hoodies were uploaded to Maree's blog; two million signatures were collected on a petition to prosecute the suspected shooter; and more than 40,000 people took to the streets on March 21 for the United Nations' International Day for the Elimination of Racial Discrimination.