Darcy '78 Paves Way to World of Investing for Hamilton Interns
---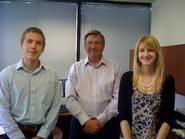 The world of investing is notoriously competitive, often characterized as a dog-eat-dog, cutthroat scramble to the top. But Hamilton trustee K. Blake Darcy '78 has shown that companies work better when alliances are strong; he has hired two Hamilton students, Adam Vorchheimer '11 and Anne Vilsoet '11, as interns at his growing investment firm Formula Investing.

Founded by Darcy himself and Joel Greenblatt, an adjunct professor at Columbia University, Formula Investing adheres to the strategy Greenblatt outlined in his book, The Little Book that Beats the Market. "We purchase the stocks of companies with high earnings yields and returns on capital for individual and institutional clients. Soon, we will be serving other registered investment advisors, too," Vorchheimer explained.

Formula Investing rates companies based on the cost of their stocks relative to their earnings, then combines this ranking with their return on capital. These companies with the best combination of high earnings yield and return on capital are the ones to which Formula Investing directs its clients, intending for their investment to be a long-term strategy rather than one designed for rapid buying and selling. The company is unique in that it uses the Internet for the benefit of its customers, allowing clients to view their accounts in almost real-time on the website and easily manage their money online. Formula Investing even launched the first iPhone application from a money management firm that lets clients follow their stock portfolios. The company has been recognized for its transparency and its excellent returns to clients.

Since it began managing assets for clients just last year, Formula Investing has seen amazing results. Between May 1, 2009, and March 31, 2010, the returns for the company's investors are about 15 percent above those for the industry standard, the S&P 500. The firm is also growing considerably and has recently opened a new business line to allow financial advisors to open accounts for their clients as well as another business line to allow large institutional clients to invest.

Darcy accounts for Formula Investing's success by the sound business strategy it started with. "I think our success is really a result of the fact that we have a great value manager, Joel Greenblatt, who is backing the company and whose strategies we're using," Darcy explained. "There was a huge demand for people to use his strategies as he had outlined in his book. We took advantage of that demand by building a unique and user-friendly website that would enable people to easily open and use an account with this system."

Vorchheimer and Vilsoet have the opportunity to work on a wide range of projects at Formula Investing. Vorchheimer has most enjoyed calculating the firm's statistics for their own investments as well as on different indices (such as the S&P 500 and the Russell 1000). They also recently attended a social function at which they met Joel Greenblatt and several other big names in the investment banking world. "We doubt many other students interning in finance have this much direct contact with the CEO of their company or the opportunity to meet with such distinguished members of their field," Vorchheimer and Vilsoet said.

This is the second year that Formula Investing has hired interns from Hamilton. Darcy believes that Hamilton students make excellent interns and workers because of their flexibility to tackle a wide range of topics. "They're able to do lots of different things for us because they know how to write and they're capable of doing advanced analytics with numbers," Darcy explained. "We give them a project and expect them to come up with calculations, and they're comfortable doing that. They're also comfortable carting boxes from the office to a meeting. We needed someone who was willing to do some simple tasks as well as some complex tasks and who was willing to roll up their sleeves to help the business be successful. It's great to feel like you can come in, turn to a Hamilton intern with a project and they can get it done."

The interns, for their part, have enjoyed all the hands-on experience they are given in such a prestigious investment firm. "It's a good experience working in a small firm that is still in its early stages because, as interns, we can work on a variety of projects and aren't pigeonholed into doing the same thing every day," Vilsoet said.
"This internship introduced me to a variety of roles in the financial services industry," Vorchheimer said. "It's been interesting to see how trading, compliance, sales, etc. come together to invest the client's money. I'm grateful to Blake for this opportunity."

Vorchheimer is a graduate of Summit Senior High School in Summit, N.J.; Vilsoet graduated from Edgemont High School in Scarsdale, N.Y.