Dave Smallen Named VP for Libraries and Information Technology
---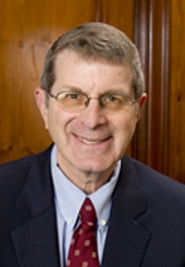 On September 15, David Smallen became the Vice President for Libraries and Information Technology, a position that allows him to create new pathways of collaboration between the traditional functions of both the Burke Library and Information Technology (IT). Smallen has been at Hamilton since 1972 — "I sometimes joke that I handed out the pistols at Hamilton's duel," he said — and has been involved with the Information Technology department since 1974.
"I had used computers a little bit before, but I was originally a member of the Mathematics department," he said. As he made his transition to his position as the new head of the "computer center," as it was then known, the Math department kept Smallen's old post open for three years, in case Hamilton's computer center didn't fully develop.
The department that would become Information Technology was housed in Burke Library from the beginning for a very simple reason: in 1974, it was the only building on campus with air conditioning, which was necessary to keep the computers cool.
"By being in the library from the start, IT and the library were always very familiar with each other," Smallen said.
The new combination of Libraries and Information Technology is consequently a very natural fit—the two departments had always shared space, but they increasingly share a common purpose as well: to provide students with access to knowledge. Libraries, according to Smallen, have transitioned from a place that information exists in to points of access.
"It used to be that the only way to have access to something was to own it," he said, "but now the focus is less on collecting and more on providing."
As a result, Smallen plans to focus on giving Hamilton students high-quality materials both in print and online in a simple-to-navigate manner. This includes prioritizing the digitization of Hamilton's special collections, including the Beinecke Lesser Antilles Collection and the Communal Societies collection, both of which are physically housed in the Rare Book room, but parts of which are accessible to anyone via Burke Library's website. Even books are now easier to obtain thanks to programs like ConnectNY, an interlibrary loan network that can deliver any of approximately six million books to Burke in a day or two.
The usage of the physical library building, then, must also evolve, as it is no longer simply a place to store books. Smallen foresees the library as an "academic commons," a place where students can come to "share a sense of energy that comes from people doing common work." It is this sense of community that Smallen feels is Burke Library's greatest asset.
"Hamilton provides access to the kinds of resources that you find at much bigger places, but in an environment that is much more personal," he said. This emphasis on personal attention has long been a hallmark of Burke Library. In the 1980s, Hamilton had access to Cornell University's computer network, and many Cornell students would drive two hours to Burke because accessing the network was less hectic than on Cornell's campus.
To expand the sense of community, Smallen is considering integrating other student services in the library. He has proposed opening up an "outpost" of the Nesbitt-Johnson Writing Center or the Oral Communication Center in the library to give students more convenient access to these academic resources as well. This would conceivably allow a student to stay in the library for the entire process of writing a paper or a presentation—from initial research to the finishing touches.
"We're preparing students to use information, create knowledge, and make decisions," Smallen said. "We'd like to help Hamilton students look forward and prepare themselves for the way the world is going to be."