David Dunn '90 and Nat Dunn Develop Word Skill
---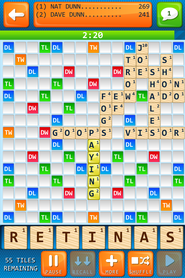 Hamilton alumnus David Dunn '90 and his brother Nat Dunn have developed a new Word game application, released in Dec. 2012. Word Skill, similar to Words with Friends and Scrabble, challenges users through a more skill based game.

Although the basic game is similar to other popular word games like Words with Friends and Scrabble, Dunn explains Word Skill is designed to be one hundred percent skill based and to provide more opportunities for "wins:"
All players get the same letters in each round. You get points for the word you play just as you do in similar games, but only the best word played stays on the board.
You can play against more than one person (thousands actually) in a single game.
You are timed. You have two minutes and 30 seconds from the time you see your letters to play your word.

Dunn describes the frustration he and his brother Nat experienced when playing popular word application games, both looking for a game more similar to a competitive game of chess, in which the person who plays the best always wins. Words Skill is unique, as each player is given the exact same letters and has a limited amount of time to make a move. In each new round, the players are provided with a completely new set of letters. Because each turn is timed, Dunn said the game "has the intensity of Boggle."

The Dunn brothers have already experienced success with over 10,000 players in the first few weeks after the game's release. The pair is hoping to continue their growth; one way they intend to drive new players is through group games. Dunn explained, "We think people will have a lot of fun playing large group games against people from their college, hometown, their place of work, etc."

One of the first group games the pair has initiated is for the Hamilton College community. For information on playing against other alumni, parents, friends, and current students of the college, check out http://www.word-skill.com/games/hamilton/.

Originally from Clinton, David and Nat, a graduate of Pomona College, operate a training company out of Syracuse, NY. In the future, the pair hopes to begin a Words Skill game between Hamilton and Pomona College students. At Hamilton, Dunn majored in comparative religion.