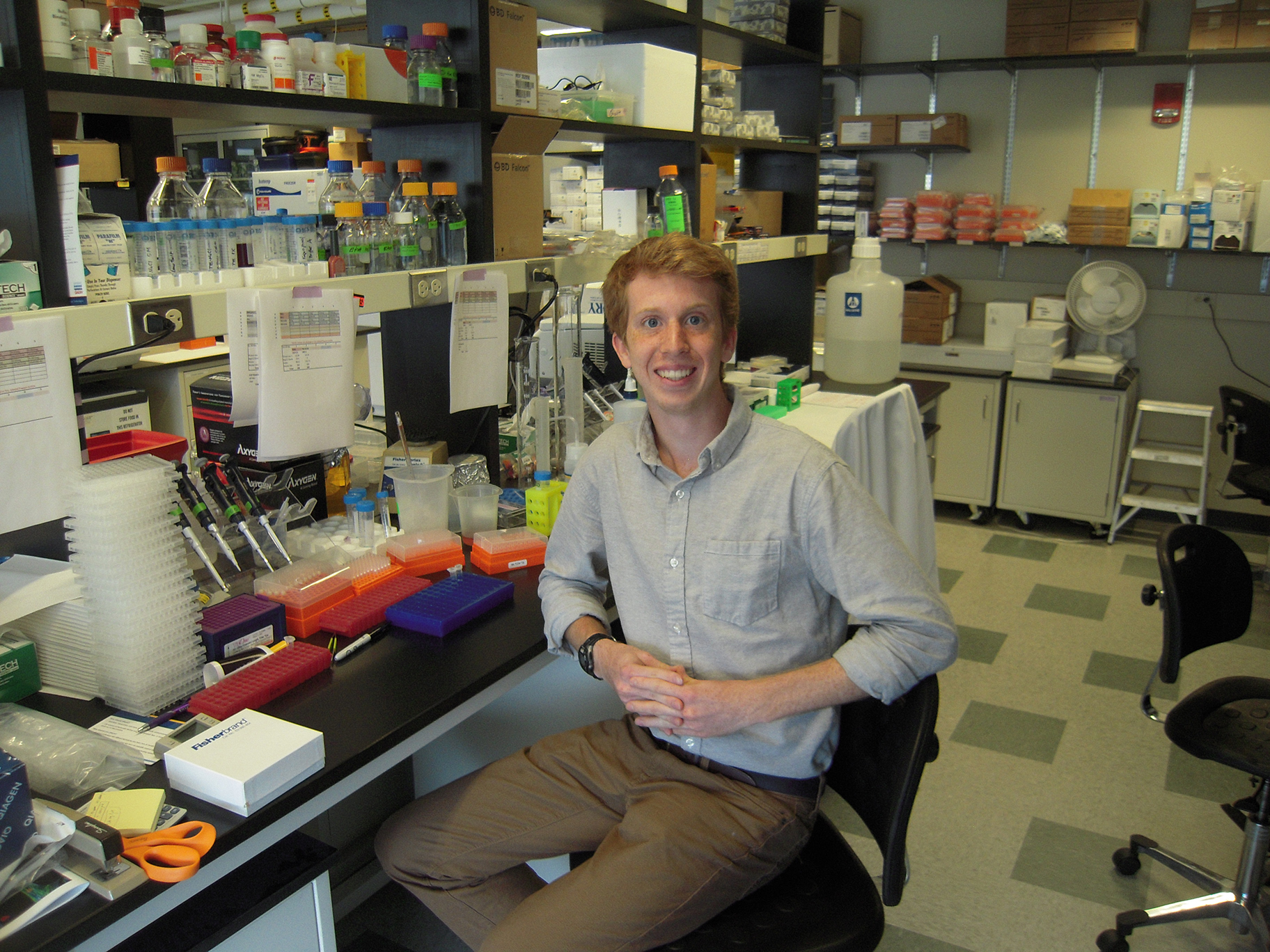 Although not all tumors are malignant, those that are often serve as harbingers of cancer. Combatting cancerous tumors can be difficult, especially when the tumor is receiving the nutrients it needs to grow and spread. David Freeman '16, a biochemistry major, is spending the summer interning at the Vermont Cancer Center (VCC), a collaboration between the University of Vermont and Fletcher Allen Health Care. Freeman's internship is supported by the Joseph F. Anderson Fund, managed by the Career Center
Freeman is working in the Stein and Lian Lab, which is focused on cancer research and clinical treatment. His research is focused on epigenetics, a field of molecular biology that studies how DNA is transcribed, or read. Although many factors contribute to transcription, Freeman is predominantly focusing on DNA methylation, a process which forms angiogenic proteins.
Angiogenesis is the formation of blood vessels in tumors, which "allows tumors to get the nutrients they need to grow," Freeman described. "The hope is that if we figure out ways to regulate this protein we can limit the amount of nutrients delivered to tumors. Furthermore," he continued, "since this research is so new I am constantly reading up on the most recent science articles and applying them to our own research."
Freeman is thankful for the hands-on experience he is gaining in the lab: "Many of the techniques I am using this summer I had learned in classes on the Hill, but there are others that I had only read about that I now have the opportunity to actually perform." He has also enjoyed attending lectures by graduate students and faculty at the UVM Medical School.
"Even though I am study epigenetics in connection with cancer research, it is also used to study a whole breadth of topics," Freeman explained. "For instance another lab at the grad school is using epigenetics to figure out how to make milk production from cows more efficient."
Although Freeman has not yet decided what path he'll pursue after Hamilton, he said that his time in the lab has inspired him to look into a dual MD and PhD program. Epigenetics can be applied to a wide variety of medical issues, and he would like to continue researching in the field.

David Freeman is a graduate of Weston High School, Mass.