David Palmer '56 Ponders Rituals and Symbols
---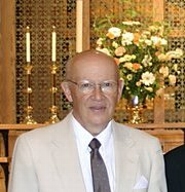 David Palmer '56 has recently posted an essay titled "Rituals and Symbols" on his blog Cosmoticks. Palmer's thoughts and questions are the result of his study of the works of Carl G. Jung, which he first encountered at Vanderbilt Divinity School in 1987. His essay explores the nature of adolescence, the relationship between love and power, and the relation of God to the self:

"I've got a question. I want to know if there are others who believe, as I do, that God is really our unconscious/subconscious mind. That is to say, I believe that when we say our prayers to God, we are using our conscious mind to talk to our unconscious mind. In my view, another name for the unconscious mind is the Self. My view is that when we pray, we are really talking to our Self, and that's talking to God. To be clear, as far as I know, Carl Jung never used the word "pray" in this connection. Furthermore, I believe that he didn't because to mention church in this connection would have ended his career, as it might any of his followers today. Too risky!"

Read the rest of the essay at www.cosmoticks.blogspot.com.

At Hamilton, Palmer majored in biology and chemistry and was a member of Tau Kappa Epsilon.