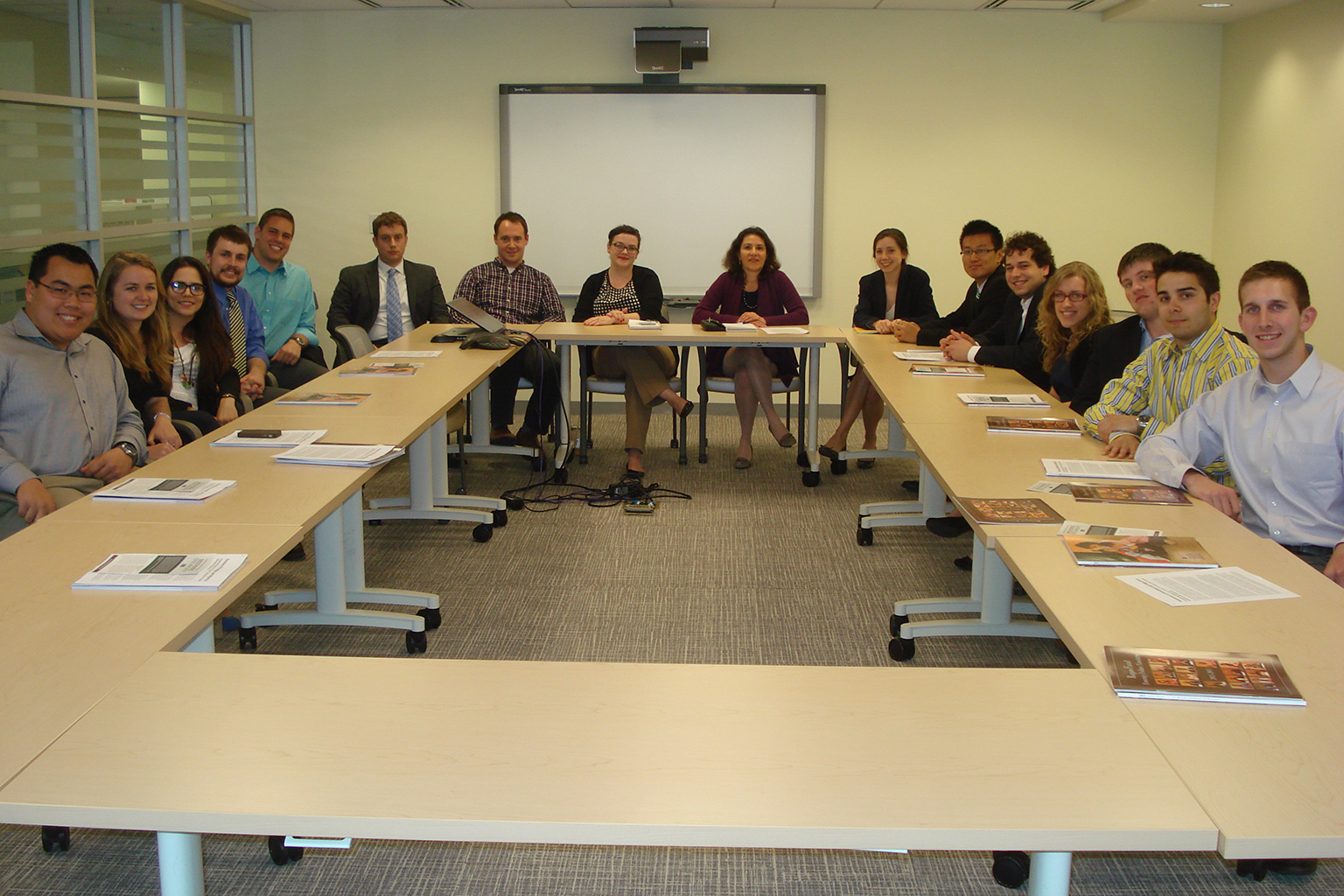 Students in the Hamilton College Program in Washington, D.C., recently met with program officers at the National Endowment for Democracy (NED) for a discussion of the organization's efforts to promote human rights and democratic change in the post-communist region. As its statement of principles and objectives explains, the endowment is "a U.S. initiative to strengthen democratic institutions throughout the world through private, non-governmental efforts" that "embodies a broad, bipartisan U.S. commitment to democracy."
Miriam Lanskoy, director for Russia and Eurasia, described some distinctive features of the endowment: its long-term view and commitment to democracy promotion, emphasis on regional expertise, and commitment to being a demand-driven partnership in which local partners conceptualize and develop grant proposals. In addition to the program side of NED, the endowment has expanded its scope in recent years to include several other initiatives: the Journal of Democracy, International Forum for Democracy Studies, World Movement for Democracy, and Center for International Media Assistance.
Lanskoy described how civil society in Kyrgyzstan experienced a significant amount of learning between the Tulip Revolution of 2005 and the 2010 protests that ousted former Kyrgyz president Kurmanbek Bakiyev. Also on the positive side of the ledger, the activists have used the courts in Russia to uphold the rights of Russian NGOs in the face of heavy restrictions on NGOs put in place during the Putin regime. On the other hand, Azerbajian has become more dangerous for democracy activists than almost any other country in the region.
Lanskoy has been at NED for 10 years and worked at Boston University prior to that. She has extensive experience in political analysis and democracy promotion in post-Soviet Eurasia.
She was joined at the talk by Benjamin Moreno, assistant program officer, Europe, who works on Ukrainian programs; Dylan Myles-Primakoff, assistant program officer, Russia; Kate Resta, assistant program officer, Eurasia; and Sarah Lillibridge, program assistant, Eurasia. Panelists discussed the current crisis in Ukraine, cooperative efforts between NED and other domestic and international groups active in democracy promotion, and the evaluation and assessment of democracy promotion aid.
In addition to their insights on democracy promotion, the panelists offered the students helpful career advice for students seeking positions in their field. In particular, they stressed the necessity of mastering a foreign language and having in-country experience. Since their work is mission-driven, it is also crucial for applicants to be able to demonstrate a passion for protecting and promoting human rights, civil liberties and democratic governance.
Associate Professor of Government Sharon Werning Rivera, Program in Washington director this semester, remarked that "in a class discussion held the day after our meeting, several students referenced something that they had learned at the NED panel. It is very gratifying to see them making connections between academic theories and real world experience, which, after all, is what the DC program is all about."