De Swaan Presents Reflections on War and Destiny
---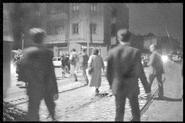 Internationally recognized photographer and former Hamilton photography instructor Sylvia de Swaan addressed a standing-room-only audience on Wednesday, Oct. 7. Her presentation, part of the Diversity and Social Justice Program's year-long series focused on issues related to citizenship, was titled "Return."

Part narrative and part slide show, her program addressed personal history, memory, war, identity, destiny and the journey of self discovery. "Return," a series of approximately 100 images coupled with personal reflections, is a long-term project developed from seven trips over more than a decade to Eastern Europe following the fall of Communism.

"Photography is about narrative; what you sequence and select changes the narrative," de Swaan began. Her birth certificate, the program's first image, states that she was born in the "kingdom of Rumania," a place that disappeared forever shortly after her birth with the onset of World War II. She and he mother and sister became refugees moving from country to country as borders shifted and countries collapsed. "Return" is a personal "metaphoric journey" through a region that is "murky with no straight lines," according to de Swaan.

"How do you photograph an absence?" she asked. Her trip "home" explored her connection to it despite her many years away. She used elements including maps and family photos superimposed on other images including grave sites, memorials and trains as reflection of that sense of absence, loss and movement. Included in the presentation were images taken in Prague, Vienna, Bucharest, Budapest, Frankfurt and Warsaw as well as in her hometown of Czernowitz, now Czernovtsy, among many other cities.

De Swaan talked about her attempts at assimilation, her drive to "Americanize" when she came to this country as a child. During the question and answer period following her presentation, she asked if there were other refugees in the audience. Two students, one from Bosnia and one from El Salvador, briefly told their stories and expressed their own similar quests to define issues of identity.

At the close of her remarks, de Swaan quoted the Bal Shem Tov, a "wise rabbi" of the nineteenth century who said, "Memory is the source of liberation, as forgetfulness is the root of exile." "Return" is a clear demonstration of the former.