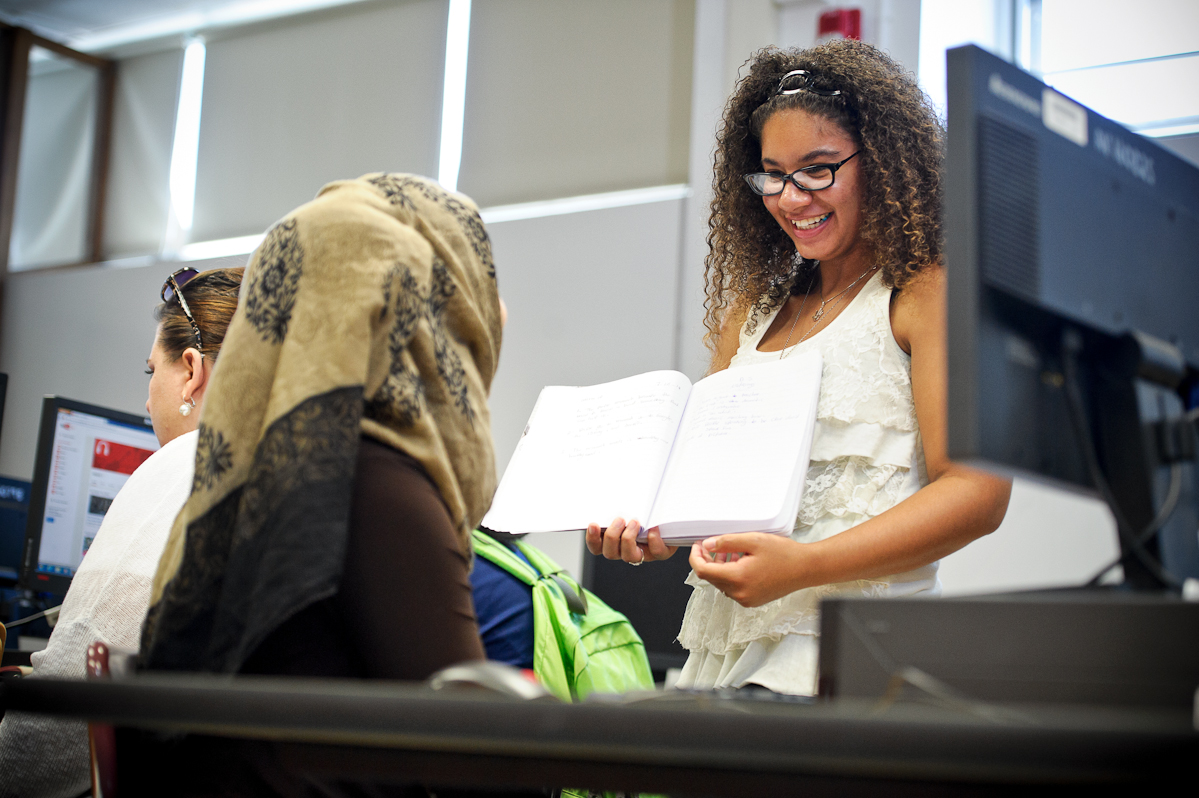 Some hard-working Hamilton students get a jump on a career by doing an internship the summer after their first year. Deasia Hawkins '18 is doing two. A skilled writer, Hawkins is sharing her talents with young students at the Young Authors Academy at the YMCA and William Nottingham High School's Summer Writing Institute, both in her native Syracuse.
Hawkins is part of First Year Forward, a program through which first-year students participate in Career and Life Outcomes Center workshops during the academic year and then complete a career-related experience the summer following their first year at Hamilton.
Both of Hawkins's internships build on two things: her passion for writing and her love of teaching. Hawkins said that she's "known since I was 11-years-old that I wanted to be an author." She primarily writes fiction, and she's currently working on a young adult novel. About her love of writing, she said, "I'm obsessed with words and yearn to create stories that expose all the hardships, tragedies, beauty and brilliance of the world." Her own experience with writing has helped her relate to aspiring writers at both of her internships. She recognizes that writing is "a daunting process full of long nights and way too many rough drafts," and her ability to empathize with this process has helped her to relate to and encourage the students with whom she works.
At the YMCA's Young Author's Academy, Hawkins works with students from grades 6 to 12 who are devoted to writing. The students take classes in poetry, fiction, and screenplay writing, and Hawkins helps the students by providing constructive criticism. She's found it highly rewarding to work with students who love writing as much as she does. She's also learned a lot about teaching. "At first," Hawkins related, "I thought I needed to be around the students at all times in order to teach them thoroughly. However, I learned that giving the students space and time to work on their own, with guidance when necessary, is the best way to both gain their trust and teach them the material."
Hawkins has also built on her teaching experience through her second internship at her own former high school's Summer Writing Institute. The institute is a three-week program that introduces incoming freshmen to the expectations of high school writing. The program aims to help students find their own voice while teaching them the basic skills of writing. In just three weeks, Hawkins has been able to see these students make impressive progress. At the beginning of the summer, she saw that some of the students lacked "the encouragement and motivation to succeed." However, she found that "with just a little motivation and support, they started to believe in themselves more and work toward a larger goal." Seeing that progress was the most rewarding part of Hawkins's summer.
Hawkins plans to put her passion and experience to good use, and she will continue teaching in the future. She plans to be heavily involved with tutoring programs on campus in the fall, and her long-term goal is to teach, perhaps even at William Nottingham High School. She has seen the difference a shared passion can make to young students, and she wants to continue to inspire young writers. Through her internships she saw what teaching should be about and what she wants to continue doing throughout her career: "helping students develop into well-rounded people who have ambition and hope for the future."