Debbie Chen '13 makes her career connection through HamiltonExplore
---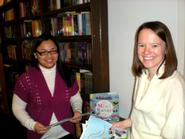 During my HamiltonExplore experience, I shadowed an editor at Bloomsbury Children's Books and met with a publicist at Random House. Having the opportunity to understand two different but equally crucial components of publishing and meeting alumni who encouraged my interest in this field helped me realize that I could pursue a career in publishing. This realization led to various applications for internships where I would learn the numerous steps it takes for a proposal to become a bestselling book.

Fortunately, I was offered the sales intern position at Hachette Book Group (publisher of the Twilight series, all of James Patterson's and Nicholas Sparks' novels, and Tina Fey's Bossypants). Throughout the internship, I attended many presentations given by individuals in each department. I not only gained insight into what it takes for books to reach the shelves and displays at bookstores and land in the hands of readers, but I also became knowledgeable about the overall process. In addition, I have added more people into my professional network. HamiltonExplore played such a crucial role in helping me recognize my passion, and I'm certain anyone who takes part in this program will benefit tremendously.

Learn more about more about this program on our HamiltonExplore page, or talk more with Debbie about her persona experience dxchen@hamilton.edu..