DEC-funded Sylvan Beach Research Recognized
---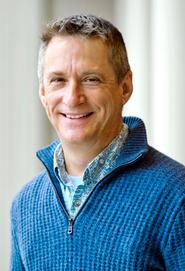 Eugene Domack, the J. W. Johnson Family Professorship of Environmental Studies, and students under his direction, have determined why Sylvan Beach has been eroding for the past century and have discovered how to address the situation. A ribbon-cutting ceremony attended by local politicians on May 21 was held to open the beach for the season and to recognize the contributions that Domack and his team have made toward solving the problem.
Research on this issue began in 2008 when Hamilton acquired a vessel equipped with all major sediment and water sampling (measuring) instruments necessary for researchers to access the lake. The boat was funded with support from the Sherman Fairchild Foundation and the New York State Department of Environmental Conservation (DEC). The detailed sand budget survey of the eastern shoreline of Oneida Lake was funded by the DEC.
The source of the sand, coming from Fish Creek, was cut off by the development of the Barge Canal in the 1920's, causing the sand to no longer make it to the lake. As a result, the canal has been dredged every two years. Domack, with a group of students over several summers, mapped the sedimentology of the east end of Oneida Lake and determined the trends in the lake's sediment distribution paths and erosion patterns. Based on the findings, they recommended that the sand be taken from the canal and put on the shoreline with a plan to return the beach to what it once was.
In an interview on Tuesday, May 21, with NBC-affiliate WKTV, Domack discussed the importance of the beach as a tourist destination a century ago. The beach eroded more than 100 feet in the last 100 years.