Department of Music Presents Spring Ensemble Concerts May 2-8
---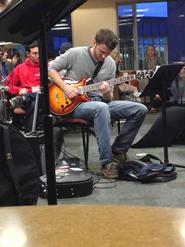 The Hamilton College Department of Music presents several spring concerts for student ensembles in Wellin Hall, Schambach Center for Music and the Performing Arts, May 2-8.
The Hamilton College Orchestra will perform its final concert of the semester on Friday, May 2, at 7:30 p.m. Conducted by Heather Buchman, the concert will feature Albinoni's Oboe Concerto in B flat, Op. 9, No. 11, with Emma Taccardi, oboe. Also on the program are Respighi's Ancient Airs and Dances Suite No. 2, with choreography by Sandra Stanton-Cotter and Hamilton College dancers, Haydn's Symphony No. 6 in D Major, and Respighi's Fountains of Rome.
The Hamilton College Choir presents its final concert on Monday, May 5, at 7:30 p.m. G. Roberts Kolb conducts Sergei Rachmaninoff's, All-Night Vigil, Op. 37 (1915). This is Rachmaninoff's a cappella masterpiece based on traditional chants of the Russian Orthodox Church.
The Hamilton College Jazz Ensemble will perform its spring concert on Thursday, May 8, at 7:30 p.m. "Doc" Woods directs jazz standards, new arrangements and student soloists.
All of these events are free and open to the public. For more information, call the box office at 859-4331 or visit www.hamiltonpa.org.