Ding '12 Serves as Youth Representative at International Climate Summit
---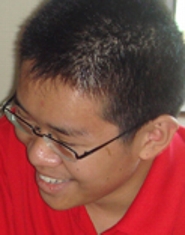 Hamilton student Yinghan Ding '12 served as a youth representative at the second Governor's Global Climate Summit in Los Angeles, a conference hosted by California Governor Arnold Schwarzenegger that brought together U.S. and international governors, U.N. officials, senior officials in the Obama Administration and former British Prime Minister Tony Blair. Ding's opportunity to participate came as a result of his involvement with the British Council's International Climate Champions (ICC) program in China. The conference was held in early October.

Ding was one of 12 "Champions" selected to represent youth perspective on climate change at the summit. In addition to sitting on the only youth panel at the event, the Champions also served as roving reporters, having the opportunities to meet and interview public officials and authorities on climate change. The Champions had the opportunity to meet with Governor Schwarzenegger and to interview Tony Blair.

Ding has spent the past several years participating in various environmental activism programs. He participated in the Climate Cool Project and formed a small organization called Solar Energy Efficiency Declaration through the British Council China. He also participated in the British Council's "Green Journey" program in July, working with other Champions to spread messages of global warming in some of China's biggest cities. Ding also maintains an environmental blog to spread awareness of climate change issues. He worked closely on his climate project with alumna Meghan Steed '00, senior projects manager of the British Council USA.