Dinner Dedication of Joshua Hicks '09 Memorial Collection in Spiritual Film
---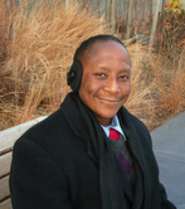 A dinner and ceremony dedicating the Collection of Spiritual Film in the Chapel Library on Feb. 21, 2013 honored the life and interests of the late Joshua Hicks '09.

Hamilton College Chaplain Jeffrey McArn describes the desire to connect the campus community with spiritual thought and reflection, an idea which gave birth to the Collection of Spiritual Film in the Chapel Library. The collaborative process included McArn, Professor of Religious Studies Steve Humphries-Brooks, Professor Brent Plate of Religious Studies, and Art History Professor and Curator for the F.I.L.M Series Scott MacDonald, who each suggested titles for the project. The opening of the Collection of Spiritual Film is an attempt to make films with spiritual content and educational films regarding religious tradition more available at Hamilton.

Former Hamilton student Joshua Hicks' deep passion and interest in religion and film further inspired the spiritual film collection. Humphries-Brooks, Hicks' thesis advisor during his senior year, suggested titles of films that Joshua had considered throughout his thesis project on religion. McArn remembers Hicks as a vibrant member of the Hamilton Community, who pursued his interest for religion in life after Hamilton, attending graduate and seminary school. McArn felt honoring Hicks, through a dedication in his memory, was an important way to personalize the collection, "The willingness of Joshua's brother Geoffrey '09 to come back and celebrate the dedication with his wife Robin '09 puts a human connection to the collection and symbolizes the whole reason for doing this."

Hicks' senior seminar video project was presented during the ceremony, as well as an original song, and pieces of Joshua's creative writing from his senior honors project. Humphries-Brooks spoke about his teaching experience with Joshua and his advising role in the senior thesis and video project of original creative writing based on Hicks' biblical analysis. During his time at Hamilton, Joshua was a member of six classes taught by Humphries-Brooks. The ceremony was well attended by Hamilton faculty, students, and alumni.
McArn is hopeful that current and future Hamilton students will offer suggestions for additional titles to include in the collection. "We hope students will feel some connection to these films and develop interesting ways of thinking about life and what is important," said McArn. Hicks embodied this experience when he was a student at Hamilton and after, as religious film continued to be an abiding interest as he continued to graduate school.

The Collection of Spiritual Film can be found on the 3rd floor of the Chapel. The Chapel is open 24 hours a day.