Sharmeen Obaid-Chinoy Presents Pakistan's Taliban Generation
---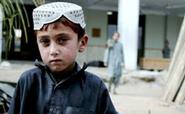 The Hamilton College fall F.I.L.M. (Forum for Images and Languages in Motion) series will feature Sharmeen Obaid-Chinoy presenting Pakistan's Taliban Generation (2009) on Sunday, Oct. 11, at 2 p.m., in the Kirner-Johnson Auditorium in the Kirner-Johnson Building. It is free and open to the public.

With the recent attack in Lahore on the Sri Lankan cricket team, the massive suicide bombing in Islamabad, and an assault on Mumbai, Pakistan's radical Islamists are bringing violence to the major cities of Pakistan and beyond. In her newest film (a collaboration with Dan Edge) Obaid-Chinoy travels across Pakistan to investigate how far the Taliban has infiltrated her country.

During the last seven years Obaid-Chinoy has directed and/or has appeared in films for CNN, PBS, Channel 4 (U.K.) and the Discovery channel. These films have earned an Overseas Press Club Award, an American Women and Radio and Television Award, a Cine Golden Eagle, and the South Asian Journalist Award. Obaid-Chinoy is the first non-American journalist to be awarded the prestigious Livingston Award and the youngest recipient of the One World Media broadcast journalist of the year award in the United Kingdom.

Born in Karachi, Pakistan, Obaid-Chinoy was the first woman in her family to receive a Western education. She graduated from Smith College with a bachelor's degree in economics and government and then completed master's degrees at Stanford University in international policy studies and communication.