Director Named for New Hamilton College Museum of Art
---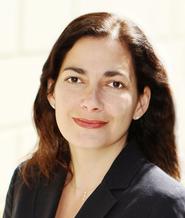 Hamilton College President Joan Hinde Stewart announced today the appointment of Tracy Adler, former curator for the Hunter College Art Galleries in New York, as the inaugural director of the Ruth and Elmer Wellin Museum of Art.

Adler's appointment is effective July 1. Construction of the Wellin Museum at the western entrance to the Hamilton campus is scheduled to be completed in August.

"Tracy Adler shares our enthusiasm for this building and its mission, and she has the knowledge, experience and energy to make the Wellin a focal point for the arts at Hamilton, in the region and beyond," Stewart said.

"I think it is significant that at a time when many educational institutions are increasingly focusing on vocational skills, Hamilton is investing in the arts," Adler said. "Exposure to the arts is integral to a liberal arts education and instrumental in teaching students to think and solve problems creatively. The Wellin Museum of Art offers a blank slate, providing an opportunity to build museum programming from the ground up. I envision the Wellin serving as a new model for the museum of the future and setting an example for how a college art institution can be perceived in the broader world."

As operational director of two galleries at Hunter College for 13 years, Adler oversaw 125 modern and contemporary art exhibitions, as well as other shows featuring medieval reliquaries, Islamic art objects, French manuscripts and mannerist drawings. She is the author of numerous catalogue essays, and has edited a broad range of arts publications, discussed career development and exhibition presentations with artists and other art professionals, and served as juror to various competitions and residencies. Throughout her time at Hunter, she worked closely with faculty and students to prepare and mount exhibitions.

Four years ago, she started Adler Arts, a consulting firm that prepares catalogue essays and press releases for exhibitions, edits and manages publications, and advises artists in grant-writing, resource management, website content and design, portfolio presentation and residency opportunities.

Prior to her tenure at Hunter, Adler worked at the Jewish Museum and the Metropolitan Museum of Art. She received her bachelor's degree in art history, with a minor in studio art, from Skidmore College in 1990 and earned her master's degree in art history from Hunter College in 1996. As an undergraduate she studied abroad at the University of London and the Studio Art Center International in Florence, Italy.

Adler said her goal as founding director of the Wellin Museum is "to make the museum a welcoming space ideal for viewing art, for artists to show their work, for students to participate in the curatorial experience and for the public visiting the College. In this way, the Wellin will be a laboratory, a site for collaboration, discourse and positive, yet unexpected, interactions. This museum is a gem in an art world that is increasingly global."

"My hope," Adler continued, "is to make the Wellin an important cultural center, integral to the life of the College. By creating an active program of exhibitions, lectures, tours, events and publications, my aim is to develop a reputation for the museum at Hamilton and beyond."

The new director will report to Patrick Reynolds, vice president of academic affairs and dean of faculty at Hamilton. "The Wellin Museum will be different from traditional museums because it will serve as a 'laboratory' for interrogating the visual arts, where students will develop aesthetic discernment and expression, and feed their creativity and intellectual curiosity; all core educational goals at Hamilton," Reynolds said. "It will purposefully engender connections between the visual arts and disciplines across the curriculum."

A unique feature of the new facility, Reynolds said, is the open archive that will provide students and faculty with ready access to a major portion of the objects in Hamilton's permanent collection. The museum also features a 6,200 square-foot exhibition space, and expanded preparatory spaces that will create new opportunities for student co-curation of exhibitions, which has "tremendous potential in the development of arts pedagogy at Hamilton."

"The opening of the Wellin Museum and the appointment of Tracy Adler as director signal a major new emphasis on arts education at Hamilton College," Reynolds said. "We look forward to the many contributions Tracy will make to our community."

Adler said she is especially interested in the multidisciplinary vision for the Wellin Museum. "I look forward to working across disciplines to create dynamic exhibitions that express a range of ideas and perspectives," she said. "The museum as an entity ties a wide range of ideas to specific objects and creates new connections for consideration. The art experience is about broadening horizons and helping the audience develop a sense of visual literacy that will inform and enrich life outside the walls of the museum."

Adler also sees the Wellin Museum playing a broader role in the regional community. "There is a lot going on in the Utica area," she said, referencing the Munson-Williams-Proctor Arts Institute and Sculpture Space. "We can become part of that conversation."

Construction of the Ruth and Elmer Wellin Museum of Art was made possible by a $10 million lead gift by 1950 Hamilton graduate Keith Wellin and his wife Wendy. It is named in honor of Mr. Wellin's parents.