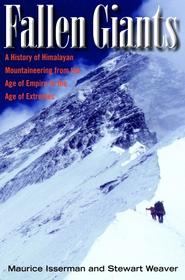 In an online Discovery News article titled "Mt. Everest: Why Do People Keep Climbing It?," Maurice Isserman, the Publius Virgilius Rogers Professor of American History, commented on the recent tragedy on Mt. Everest. A second article on the same site titled "Do We Need Police on Everest" that appeared on April 24 also included comments from Isserman.
In the first article, Isserman said, "From the moment it was identified as the highest mountain, it became an object of fascination. There are more interesting mountains to climb. There are more beautiful mountains. There are more challenging mountains that are a better experience. But it's a trophy. It's the biggest." The article appeared on April 22.
In the second piece, Isserman spoke about the growing number of climbers on Everest and the evolving code of climbing ethics. "Climbing has this elaborate and evolving code of ethics. The really ethical thing would be to give the poor mountain a vacation," he commented.
Isserman is the co-author of Fallen Giants: A History of Himalayan Mountaineering from the Age of Empire to the Age of Extremes.