Inaugural Days-Massolo Center Lecture is Diversity in the Liberal Arts College
---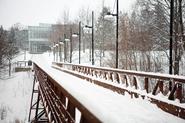 The inaugural lecture of the new Days-Massolo Cultural Education Center will take place on Thursday, Jan. 27, at 4 p.m., in the Kirner-Johnson Bradford Auditorium. The presentation, titled "Diversity in the Liberal Arts College: Institutional Dimensions and Uses," will feature two speakers: Eric Estes, dean of Multicultural Affairs at Oberlin College and Hamilton College Professor of Anthropology Bonnie Urciuoli.
Estes received his degrees in history and women's studies from Syracuse University. In addition to Oberlin, he has taught classes at Syracuse University, LeMoyne College and Duke University. He is the faculty chair of the Committee on Equity and Diversity and a member of the Oberlin College Dialogue Center. Estes is a mentor for the National Consortium of LGBT Professionals in High Education Mentor Program and is Oberlin's representative to the Consortium for Faculty Diversity and the Consortium for High Achievement and Success.
Urciuoli has performed years of research as an anthropologist on issues of campus diversity and served on a faculty group that studied the relationship between social difference and academic experiences. Her book, Exposing Prejudice: Puerto Rican Experiences of Language, Race, and Class, won the Gustavus Myers Center Award for the Study of Human Rights in North America
The Days-Massolo Center, which opened on Martin Luther King, Jr. Day, aims to promote diversity awareness and foster dialogue among the many diverse groups on campus.